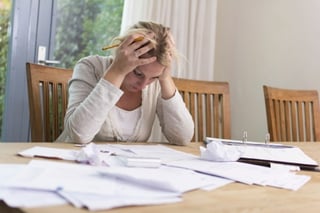 Whether shopping for the holidays or at any other time, New Jersey residents will often pull out a credit card to complete their purchase. While this could be a simple and meaningless task because the cardholder pays off the card each month, for others it could be adding to their already large credit card debt. Consumer debt can be a serious financial situation and individuals should understand how to avoid habits that could worsen this situation.
To take steps to better their spending habits, it is important to address the most common habits that lead many consumers into credit card debt. Here are seven mindless habits that could easily add to the balance on a credit card:
7 Habits That Lead to Consumer Credit Card Debt
First, online shopping is a major contributor. Both deals and downloads available on web sites makes it easy for consumers to pull out a credit card and make a purchase.
Second, eating out, after-work drinks and coffee shop habits are all routines that not only prevent saving money but also amount to charges on a credit card.
Third, making grand gestures are costly. Being generous such as paying for the next round might appear to be a nice and considerate gesture but it can be an expensive one.
Fourth, smoking is an expensive habit. Whether a smoker is paying for more packs of cigarettes or paying to quite, it is costly for both spending and health reasons.
Fifth, wandering the aisles at stores could lead to more spending. It is best to avoid aisles without items that the person needs. This could lead to unnecessary spending and a more costly shopping trip.
Sixth, gambling and lottery tickets are both expensive and addicting. While a form of entertainment, this habit could turn out to be extremely costly.
Seventh, paying late or just minimum payments on credit cards could lead to more credit card debt due to interest charges. This also prevents debtors from getting ahead of the debt.
To acknowledge these mindless spending habits and take action against them, it is important for consumers to review their credit card and bank statements. This will allow them to see where unnecessary spending is going. This could help them budget better and build up their credit score.

While these simple steps may help some consumers get their credit card debt under control, it may not be enough to achieve debt relief. Those dealing with overwhelming credit card debts should understand that they have legal options, including filing for bankruptcy.

If you need help getting out of overwhelming credit card debt, contact our offices today.

Source: Business Insider, "7 Mindless Habits Leading You Straight Into Credit Card Debt"