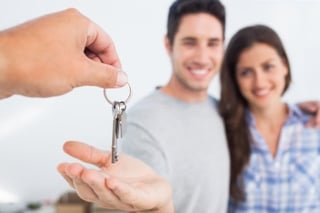 Bankruptcy can serve as a life raft for individuals who feel like they are drowning in debt. Oftentimes, filing for bankruptcy is necessary. However, it can be a scary process regardless of necessity. For example, if you are contemplating bankruptcy, you may worry about how filing will impact on your credit. There is no doubt that filing for bankruptcy will cause your credit to take an initial hit. However, it can be the best decision you can make for your credit in the long run, depending on your financial circumstances.
Buying a Home After Bankruptcy
Take home ownership for example. Buying a home will almost certainly be more difficult in the immediate years following bankruptcy than it might be right before you file. However, if you are overwhelmed by consumer debt, medical debt or other financial obligations, failing to file for bankruptcy may more greatly impair your ability to buy a home down the road than filing would.
Your Credit Score as a Report Card
If you think about your credit score like a report card, the situation becomes more understandable. Think about your credit score pre-bankruptcy like a sub-par grade like a C-minus or a D. Your grade is low because you cannot pay your debts on time. If you file for bankruptcy, that score will drop temporarily, say to a D-minus. However, bankruptcy will allow you to free yourself from many of the financial burdens that caused you to receive the low grade in the first place.
Our Foreclosure Attorneys Say There is Hope
If you make responsible financial decisions after filing for bankruptcy, your grade will rise and rise and you could receive B's or A's after a period of a few years. If you fail to file for bankruptcy and never dig yourself out of a financial hole, your grade will continue to suffer and drop. You are obviously more likely to receive a favorable home loan with a B or A rated credit score than with an F.
So even though bankruptcy may be a frightening prospect, please consider that you may ultimately do more damage to your score by not filing than by filing promptly.
If you need to speak with one of our New Jersey foreclosure attorneys, contact us online or call us at 973-870-0434
Source: WRAL.com, "What Are My Chance of Buying a Home After Bankruptcy?"