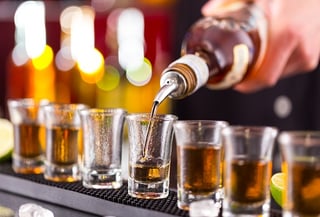 Injuries suffered in a car accident can be severe and victims may be an innocent bystander, a pedestrian, another vehicle's driver or the driver responsible for the accident itself. However, some cases exist where an accident is not the fault of the driver. In New Jersey, such cases of no-fault car accidents are very rare because the leading cause of the state's car accidents is distracted driving.
Impaired Driving Defined
Impaired driving is defined as an incident where the driver loses concentration because of intoxication caused by alcohol or drugs. Drunk driving is one of the most common forms of distracted driving and New Jersey state law allows DUI charges to be filed against such drivers.
The legal permissible blood alcohol level for drivers is 0.08 percent for non-commercial drivers and 0.04 percent for commercial drivers. The last U.S. census showed that almost 31 percent of all fatal car accidents were alcohol related.
Statistics also show that every 48 minutes a victim dies in a car crash due to alcohol. Damages incurred due to such crashes totaled around $51 billion. DUI also includes drug-impaired drivers. Young drivers, those 21 to 24 years old, were found to be most vulnerable to drunk driving. It was also observed that people involved in fatal car crashes were more than likely to have prior DUI charges and convictions.
Measures to Prevent DUI Cases
Various measures are enforced to help prevent DUI cases. BAC levels are consistently measured after sobriety checkpoints yield at-risk drivers. A driver found guilty of drunk driving may have his or her driver's license revoked or suspended and heavy fines may be imposed. In cases of major injuries, a driver may even face imprisonment.
Many community awareness programs have been suggested to prevent drunk driving. Furthermore, reducing the BAC level and raising the price for alcohol are a few suggestions made by law makers to reduce or prevent drunk driving accidents.
If You Have Been Injured in a Drunk Driving Accident, Contact Our Car Accident Attorneys in NJ Today.
Source: CDC.gov, "Impaired Driving: Get the Facts"