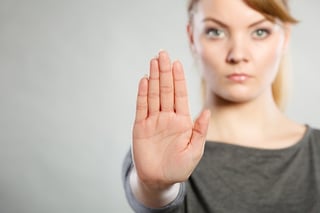 One of the most frustrating things about finding yourself in a difficult financial situation are the constant harassing phone calls from creditors. While your creditors do have a right to do what they can to collect payments on debts that you owe, if you are unable to make any payments the never-ending barrage of phone calls can be overwhelming and leave you feeling hopeless. If you have been considering filing for Chapter 13 bankruptcy, it is important to note that this will not only give you a chance to take control of your finances once again but the process will also put an end to harassing phone calls from creditors.
How Does Chapter 13 Work to Stop Harassment from Creditors?
When your debts become overwhelming, it only makes sense to look for a solution that can help you get back on track. For individuals, there are 2 different bankruptcy options that can be beneficial, Chapter 7 and Chapter 13. If you want to protect any valuable property or you currently earn above the New Jersey state median income, you may qualify for Chapter 13 bankruptcy. Under this type of filing, you agree to pay back your creditors over the course of either a 3 or 5-year repayment plan in exchange for debt relief.
Once you file for bankruptcy, creditors are prohibited from attempting any type of collection efforts in regards to a civil debt. This means that harassing phone calls must legally come to a stop. As your trusted New Jersey bankruptcy lawyers, we want to make sure that this process is as pain-free as possible. So if you are receiving these types of phone calls from creditors, we may ask that you refer them to our offices even before filing your bankruptcy petition.
Who is Eligible for Chapter 13 Bankruptcy?
Filing for bankruptcy is something that should be taken seriously and it's important to note that Chapter 13 won't work for everyone. If you are considering filing for Chapter 13, there are a few key requirements that you should be aware of, including:
Not for Businesses
This type of bankruptcy is only an option for individuals, not companies. However, if you have any business-related debts that you are personally responsible for, they will be part of your repayment plan. If you hold sole proprietorship over a business, you may technically be able to benefit from filing Chapter 13.
You Have a Steady Income
When you petition to file for Chapter 13, you must be able to prove to the court that you are able to afford your regular household obligations each month and pay into your repayment plan as well. If you have an irregular income or your income is too low to meet both financial requirements, the court won't approve your repayment plan. However, you may then be eligible for Chapter 7 bankruptcy instead.
Certain Debt Limits
Your debts are arranged into 2 different categories, secured and unsecured. If you have "secured debts" creditors have the right to take away property like your home or car if you don't pay off the debt. However, "unsecured debts" like medical and credit card bills are not eligible for this type of collection. With Chapter 13 bankruptcy, your secured debts cannot exceed the amount of $1,184,200 and unsecured debts cannot exceed $394,725. If your total debt burden exceeds wither of these amounts, you will be ineligible for Chapter 13 but may be able to file under Chapter 11 as an individual.
Additional Benefits of Chapter 13 Bankruptcy
Chapter 13 is also referred to as the "wage earner's plan" because it enables those with a regular income to work with their attorney and bankruptcy trustee to design a repayment plan that will work to absolve all or part of their debts while still protecting their important personal property. But that's not the only advantage of this filing options, other great advantages include:
Avoiding Foreclosure
The opportunity to save your home is one of the most significant advantages for those individuals who are eligible for Chapter 13. When you filing bankruptcy under this chapter you can effectively put a stop to any foreclosure proceedings and even cure your delinquent mortgage payments during the process as well. While you must still make each of your mortgage payments on time during the bankruptcy proceedings, this is a huge benefit. Chapter 13 also allows time to catch up on missed car loan payments, unlike Chapter 7.
Less Impact on Credit Reports
Filing for Chapter 13 also has less of a negative impact on your credit report than Chapter 7 does. While both chapters will have an effect on your credit report, Chapter 13 only stays on your report for 7 years compared to 10 for those who file for Chapter 7. If you file for Chapter 7, creditors will have 3 extra years to see that you have had a bankruptcy in the past. This can make a huge difference for those who may want to look into financing for a new car, renting or purchasing a home or when opening another line of credit.
Other Benefits
After you've put a stop to those harassing phone calls from creditors and saved your home from foreclosure, Chapter 13 allows you to reschedule your secured debts (except for your primary residence mortgage) to extend them over the life of your Chapter 13 plan. This could help to lower your overall payments and give you time to breathe a little easier.
Under this chapter, you also have the advantage of working with a bankruptcy trustee. So instead of you having to deal directly with your creditors to make your payments, your trustee will distribute them for you! This means that you don't have to worry about any direct contact with creditors while you're under Chapter 13 protection.
Get a Free Evaluation Today
No one should have to put up with harassment from creditors, especially when you're doing everything you can to get your head above water financially. Are you interested in learning more about the bankruptcy process? If you are struggling financially and think you may be eligible for Chapter 7 or Chapter 13 bankruptcy, our experienced and knowledgeable New Jersey bankruptcy lawyers are here to help. We'll act quickly to silence your creditors and begin working to help you regain control of your financial future. Call 888-412-5091 or visit the team at Scura online today to schedule a free initial consultation.
Whether you need to completely eliminate your debt through Chapter 7 bankruptcy, or need to reorganize your credit payments through Chapter 13 or Chapter 11, we are well qualified as a full-service bankruptcy law firm for people in these and other New Jersey counties: Passaic County, Hudson County, Essex County, Bergen County, Morris County, and Sussex County. Call us today at 973-870-0434 or toll free 888-412-5091.