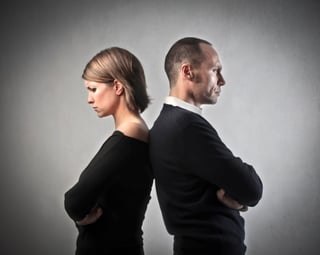 Not sure how to file for bankruptcy in the midst of your divorce? When people go through a divorce, often times it leads to great financial difficulty which can seem too much to bear. This often causes bankruptcy law to intersect with divorce law. There are many implications within divorce proceedings and accompanying obligations to a potential bankruptcy case. It is important to consult with a knowledgeable bankruptcy practitioner who can help guide you through these issues.
Debt Discharge in Chapter 7 Bankruptcy
Within a chapter 7 bankruptcy, property settlements, support obligations and child support obligations resulting from a divorce proceeding will not be dischargeable. Even if you are in a pending chapter 7 bankruptcy proceeding, your ongoing support obligations will still be owed to your former spouse. The only protection that a chapter 7 bankruptcy will provide is that collection of your past due obligations against property of your bankruptcy estate will be stayed pursuant to the automatic stay while your bankruptcy case is ongoing. A no-asset chapter 7 bankruptcy case is generally open for about ninety days. Please note that all cases are very different and that a no-asset chapter 7 bankruptcy case can be open for significantly longer than that depending on the facts of a particular case.
Debt Discharge in Chapter 13 Bankruptcy
Chapter 13 bankruptcy operates slightly different than a chapter 7 bankruptcy case in that a property settlement obligations from a divorce proceeding can be discharged, but support obligations and child support obligations will not be discharged. This is an important consideration when researching how to file for bankruptcy. Chapter 13 bankruptcy can provide you with a major advantage to chapter 7 bankruptcy if you are in arrears on support obligations, since you can craft a chapter 13 plan to pay back your arrears over the course of five years. However, it is important to note the distinction between ongoing support obligations and arrears, since the chapter 13 bankruptcy will not stay collection ongoing domestic support payments that come due post-petition.
Another route that is commonly taken in preparation for divorce is for couples to file for bankruptcy to discharge their debt jointly prior to finalizing their divorce. The advantage to filing for bankruptcy jointly prior to a divorce is that it allows the parties to engage in the divorce proceedings with a clean slate from their debt and to truly get a fresh start free from their debt in their newly single lives.
Contact a New Jersey Bankruptcy Lawyer
If you are considering bankruptcy, contact a lawyer so you can be shown exactly how to file for bankruptcy. The bankruptcy process can be difficult to navigate, so it is important that you have someone representing you who is familiar with the process to make sure everything goes smoothly.