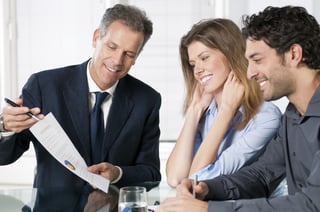 New Jersey property owners, prospective buyers, investors and lenders often look to the law offices of Scura, Wigfield, Heyer & Stevens, LLP, for qualified advice and assistance in residential real estate matters.
Our New Jersey real estate attorneys facilitate
smooth property purchase and sales transactions and leases. Clients
often contact us
for legal advice and representation in residential real estate matters such as the following:
Purchase and sale agreements for single-family dwellings and multi-family dwellings, such as condominiums and zero-lot-line dwellings

Apartment complex rentals

Quiet title actions

Review of titles for mechanics' liens or other impediments, to ensure a clean title before a purchase or sale

Preparation for closing and representation at closing

Disputes and litigation: negotiations, claims, lawsuits and resolution of conflicts over neighbors' improvements or incompatible uses of property, for example

Specific performance: enforcing purchase and sale contracts

Boundary disputes

Easements

Encroachments

Adverse possession
Smart investors, purchasers and sellers recognize that a home is typically the greatest tangible asset of an individual, a couple or a family. While it may be possible to buy, sell or lease a house without having a lawyer help, we do not believe it is in your best interest to do so.
Get Your Purchase Contract or Title Reviewed by an Attorney in Law, Sooner Rather Than Later
We are often contacted by people with title problems that would have been properly dealt with before the purchase or sale of a home, if they had contacted an attorney at that time. After the sale has gone through, it is much more difficult to address legal problems involving a title or contract. A careful review of your case by a lawyer is best done before you sign any contract. But if you already signed, and there are problems, we welcome the opportunity to make recommendations and represent you as needed.
Contact a Newark Residential Real Estate Attorney in Law for Prompt Attention
For your peace of mind, we encourage you to make the modest but very valuable investment in a legal review of your home purchase, sale or refinancing plans. The attorney in laws at Scura, Wigfield, Heyer & Stevens, LLP, handles a variety of New Jersey real estate matters, including commercial real estate leases, purchases and sales. Contact our law firm to schedule a consultation and let an experienced lawyer help.
Se habla español
Tenemos asistentes bilingües que hablan español. Por favor llamar para una cita hoy.