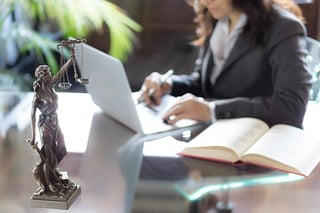 An involuntary bankruptcy is one that is filed by creditors and not by the person or entity that owes the money. The filing of a petition for an involuntary bankruptcy is an extreme remedy with serious consequences for both the debtor and the petitioning creditors[1]. For the creditors, if the petition is found to have been brought in bad faith, the creditors may be shouldered with paying the litigation costs of the debtor which were incurred in dismissing the case. And of course for the debtor, it must now find a way to meet its financial obligations under the heavy hand of the Bankruptcy Court.
Contesting an Involuntary Bankruptcy
To contest an involuntary petition, the debtor must file an answer or motion to dismiss wiithin the time allotted by the Federal Rules of Bankruptcy Procedure, currently twenty-one days after service of the summons. A motion to dismiss will be brought pursuant to section 305 and 707(a) of the Bankruptcy Code dismissing the involuntarily petition.
The decision to dismiss an involuntarily filed bankruptcy petition pursuant to § 305 of the Code lies solely within the discretion of the bankruptcy court. In re Williamsburg Suites, Ltd., 117 B.R. 216, 218 (Bankr. E.D.Va. 1990). It is settled that a dismissal pursuant to § 305(a)(1) of the Bankruptcy Code is an extraordinary remedy that should be applied with extreme caution and only granted in certain narrow circumstances. In re R & A Bus. Assoc., Inc., 1999 Lexis 543 *50 (Bankr. E.D. Pa. Mar. 8, 1999) (holding that debtor failed to establish that dismissal of the involuntary petition was warranted even though state court litigation was pending between the petitioning creditor and debtor).
The key issue in determining the propriety of a § 305(a) dismissal is whether it will serve the best interests of both the debtor and the creditors. Eastman v. Eastman, 188 B.R. 621, 624-25 (B.A.P. 9th Cir. 1995). Section 305(a) of the Bankruptcy Code, which governs abstention and dismissal, provides that:
The court, after notice and a hearing, may dismiss a case under this title, or may suspend all proceedings in a case under this title, at any time if-
the interests of creditors and the debtor would be better served by such dismissal or suspension; ...
As suggested by such language, the test to be applied under § 305(a) is not whether dismissal would prejudice a debtor or even whether a balancing process favors dismissal, but whether the debtor and all creditors would be "better served" outside of bankruptcy. Eastman v. Eastman, 188 B.R. 621, 624-25 (B.A.P. 9th Cir. 1995).
The moving party bears the burden of proving that dismissal will "better serve" both the debtor and the creditors. In re Campania de Alimentos Fargo., 376 B.R. 427, 434 (Bankr. S.D.N.Y. 2007); In re Paolino, 49 B.R. 834, 835 (Bankr. E.D.Pa. 1985). In determining whether a dismissal is warranted following an involuntary filing, courts generally utilize one of two approaches.
The first approach looks to whether three conditions exist: (1) the petition was filed by a few recalcitrant creditors and most creditors oppose the bankruptcy; (2) there is a state insolvency proceeding or an out-of-court arrangement pending; and (3) the dismissal is in the best interests of the debtor and all creditors. See, e.g., In re Short Hills Caterers, Inc., 2008 WL 2357860, *4 (Bankr. D.N.J. June 4, 2008).
A second approach is more akin to a totality of the circumstances standard, and includes such factors as:
(1) economy and efficiency of administration;
(2) whether another forum is available to protect the interests of both parties or there is already a pending proceeding in a state court;
(3) whether federal proceedings are necessary to reach a just and equitable solution;
(4) whether there is an alternative means of achieving the equitable distribution of assets;
(5) whether the debtor and the creditors are able to work out a less expensive, out-of-court arrangement, which better serves all interests in the case;
(6) whether a non-federal insolvency has proceeded so far in those proceedings that it would be costly and time consuming to start afresh with the federal bankruptcy process; and
(7) the purpose for which bankruptcy jurisdiction has been sought. Short Hills, at *4; In re Monitor Single Lift I, Ltd., 381 B.R. 455, 464 (Bankr. S.D.N.Y. 2008) ("early cases" used the three-factor tests whereas a recent trend is toward a consideration of at least seven factors); In re Paper I Partners, L.P., 283 B.R. 661, 678 (Bankr. S.D.N.Y. 2002).
The prospect of creditor liability for costs, attorney's fees, damages, and possibly punitive damages makes involuntary bankruptcy petitions one of the lesser-used collection tools. Careful consideration and experienced bankruptcy counsel are necessary for a successful outcome. Contact Scura, Wigfield, Heyer, Stevens & Cammarotta, LLP for a free consultation.
[1] If a debtor has twelve or fewer creditors, than an involuntary case may be commenced by a single qualifed creditor.
Whether you need to completely eliminate your debt through Chapter 7 bankruptcy, or need to reorganize your credit payments through Chapter 13 or Chapter 11, we are well qualified as a full-service bankruptcy law firm for people in these and other New Jersey counties: Passaic County, Hudson County, Essex County, Bergen County, Morris County, and Sussex County. Call us today at 973-870-0434 or toll free 888-412-5091.