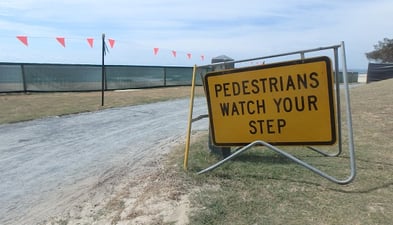 All of us are pedestrian at some time or another. When we're at a crosswalk or traffic light, its often second nature to follow the flow of other pedestrian traffic or simply walk when the light tells us to do so. But did you know that nearly 3 out of 4 pedestrian deaths occur in urban environments (73%), at non-intersections (70%)? Education is the best way to protect yourself from a pedestrian accident. Check out the safety tips for drivers, pedestrians, parents, and youth groups below.
Safety Tips for Drivers


Be on high alert for pedestrians, especially in difficult conditions such as at night or in bad weather.


At intersections and crosswalks be prepared to stop when turning or entering a crosswalk.
Stop at the crosswalk stop line to give drivers in other lanes an opportunity to see and yield to the pedestrians.


Be careful when backing up and check behind your car before getting in the car – pedestrians, especially young children, can move across your path.


Even when you have a green light at intersections, be careful making the turn because many times pedestrians also have the signal that they can cross as well.
Safety Tips for Pedestrians


Follow the signals, cross at crosswalks or intersections and not the middle of the block.


Obey lights, signs and signals.


Walk facing traffic and as far from traffic as possible if there is no sidewalk.


Pay attention to the traffic moving around you.


Do not pay attention to your phone while walking in the street – this is not the time to be texting or talking on a cell phone.


Always make eye contact with drivers as they approach. Do not assume a driver sees you.


If you know you will be walking always wear bright clothing during the day and reflective materials and clothing at night.


Always look left-right-left before crossing a street.


Safety Tips for Parents and Youth Groups


Make sure to show and teach young children right-of-way rules and safe pedestrian behaviors.


In new areas, conduct a walkability checklist of your favorite walking routes in your neighborhood.


In your neighborhoods, conduct high-visibility enforcement campaigns to improve drivers yielding to pedestrians. Click here for comprehensive information about improving pedestrian environments.


If you do find yourself in a pedestrian accident, the process can be complicated and confusing. Contact an attorney right away at Scura, Wigfield, Heyer & Stevens to help guide you through the process.