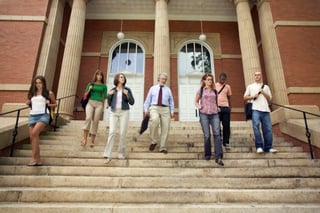 According to estimates provided by the Consumer Financial Protection Bureau (CFPB), Americans are currently carrying upwards of $1 trillion worth of student loan debt, $165 billion of it from private lending institutions. Scholarships and grants will take care of some expenses for eligible students, but that still leaves on average $20,326 to be repaid by each college graduate, an increase of more than 90 percent since 2001.
Trouble Paying Back Loans
With college tuition reaching record highs, many students - particularly ones from less-affluent families whose parents cannot contribute significantly to their school costs - feel they have no choice but to take out multiple loans to finance their education. Many of those debtors graduate and find themselves unable to pay back their loans while still meeting other financial obligations. This is particularly true lately, given our country's recent economic struggles that created high unemployment and "underemployment" rates (as recent graduates took jobs for which they were vastly overqualified just to have some sort of steady income).
Furthermore, the CFPB reports that nearly 13 percent of student loan recipients will default on their loans within three years of graduation.
Can Bankruptcy Help?
Many people struggling with overwhelming student loan debt assume that a bankruptcy filing will wipe out that debt. Unfortunately, since the late 1970s, student loan debt has - except for very rare cases - been non-dischargeable in bankruptcy. There have been some legislative attempts to change that, but for now, those debts are generally not eligible for discharge. Even so, a bankruptcy filing might still be beneficial to those with a large student loan debt load, going a long way toward relieving their financial burden.
While it is true that educational debt itself isn't dischargeable in bankruptcy, many other types of debts, including medical bills, credit card debt, personal loans and more can be cleared with a bankruptcy filing, freeing up income that can then go toward paying down student loans.
How It Works with Chapter 7 Bankruptcy
A Chapter 7 bankruptcy will quickly discharge debts for eligible filers, and they usually see a noticeable difference in their financial situation in a few short months. Having a bankruptcy get rid of other debts will give the debtor the financial freedom to both begin rebuilding credit quickly and can prevent going into default or forbearance on student loans.
How It Works with Chapter 13 Bankruptcy
A Chapter 13 bankruptcy has a different approach to debt, and doesn't discharge it immediately. Instead, all eligible debts are consolidated into a single amount, toward which the debtor will pay each month for a set time, usually about three years, but sometimes going as long as five years. After the repayment plan is done, remaining debt that was part of the original plan will be discharged. Again, this can free up much-needed funds that can, even if student loans were deferred (put "on hold") during the bankruptcy period, be used to pay them.
Getting Help with Your Personal Debt Situation
Are you dealing with unmanageable debt? Concerned about defaulting on a student loan or other personal debt? Want to learn more about how bankruptcy might be able to help? If so, seek the advice of an experienced bankruptcy attorney from our offices.