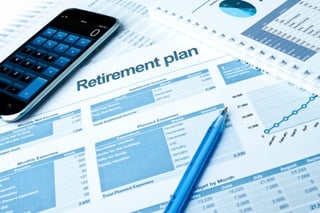 Over the past several years, with the economy on its uncertain course, many New Jersey residents have been faced with increasingly high debt levels and a great deal of uncertainty over how to manage those debts. For those borrowers who have money in retirement accounts, one question that often arises is whether to take money out of a 401(k) to pay off debts. Although this can sometimes seem like the only solution, it often is not a wise choice.
Retirement Assets are Protected During Bankruptcy
One reason why borrowing against a 401(k) to pay off debts is not necessarily a good idea is that, unlike savings accounts and certain other assets, most retirement accounts are considered "exempt" during bankruptcy proceedings. This means that if you decide to file bankruptcy to get out of debt, the assets in your retirement plan will be treated as "off limits" and cannot be seized to pay off creditors. Instead, they will be kept safe for the time when you will use them for their intended purpose of funding your retirement.
On the other hand, if you deplete your retirement account in an effort to pay off your debts, but then end up filing for bankruptcy protection anyway, you will have lost those assets and gained nothing. Furthermore, even if emptying your 401(k) helps you to avoid bankruptcy altogether, it still puts you at a major disadvantage by limiting the assets that will be available to you in your retirement years. This in turn may increase the likelihood that you will fall back into debt at a later date.
Older Adults Face Increasing Financial Strain
According a study from the University of Michigan Law School, adults age 65 and older are the fastest-growing age group seeking bankruptcy protection. Many of today's seniors run into financial difficulty as a result of overwhelming medical bills and prescription costs. As reported by NBC, medical debt was the leading contributor to bankruptcy filings across all age groups in 2013. Meanwhile, the study also showed that older adults carry about 50 percent more credit card debt than younger borrowers.
Advice from a Bankruptcy Lawyer
Whether due to medical expenses, job loss or a simple lack of adequate retirement funds, financial difficulties later in life can be particularly hard to navigate, since senior citizens are often limited in their ability to earn an income. In many cases, bankruptcy can provide a way to eliminate some or all of those debts, as well as stopping the stress and creditor harassment that so often accompany them. Be sure to discuss your situation with a knowledgeable bankruptcy lawyer if you or a loved one is struggling with debts that have gotten out of hand.