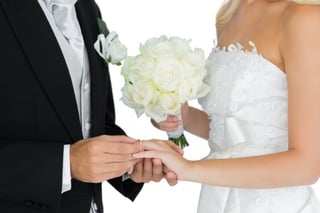 If you are engaged to someone who has filed for consumer bankruptcy in the past, you may have a great number of questions about the process. Perhaps most importantly, you may be wondering whether your future spouse's former bankruptcy will have an impact on your credit rating. The answer to this question is a bit complex.
Marriage, Bankruptcy & Credit Scores
The positive news is that marriage does not result in automatic merging of credit scores. As a result, your credit will not be impacted by his or her potentially low score resulting from bankruptcy. In addition, if the bankruptcy was filed several years ago, your future spouse's score may already be recovering or fully recovered. Regardless, your credit score will not be impacted by his or her old debts and bankruptcy simply because you have married.
However, your joint credit may be impacted by your future spouse's former bankruptcy and resulting credit score. If you apply for credit jointly in order to purchase a home, a car or simply to take out a joint credit card, your interest rate may be considerably higher together or you may be denied for credit, depending on how low your spouse's score is.
Your Credit Score Will Not be Affected by Marriage but Beware of Co-Signing
Be advised that should you co-sign for any credit in your future spouse's name that lenders will be able to come after you for the balance should he or she ever become unable to pay for the credit. Though your credit score will not be impacted by your marriage, carefully consider whether any joint credit opportunities are worth the risks for you and your family.
To speak with a consumer bankruptcy lawyer, call our offices at 973-870-0434 or fill out our online contact form.
Source: Fox Business, "Will Fiance's Old Bankruptcy Hurt my Credit?"