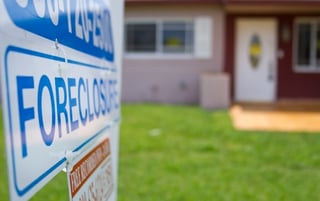 Commonly, we receive calls from potential clients asking why they owe money to a creditor after their home was sold at a sheriff's sale or a lender repossessed their automobile. Generally, the potential client is referring to a deficiency judgment.
If a debtor's mortgage lender forecloses on a home, or if a car lender repossess a automobile for missed payments, and the lender cannot resell the property to satisfy the originating loan, then the debtor may be required to pay the "deficiency". This can be terrifying, because many individuals believe that the sheriff's sale or repossession was the end of any collection efforts. Luckily, filing for bankruptcy can eliminate your personal liability for a deficiency judgment.
What Happens If You Have A Deficiency After A Foreclosure Or Repossession?
Deficiency laws are complex and vary from state to state. In a foreclosure proceeding, the deficiency judgment is the amount remaining on the debt after the home was liquidated at a sheriff's sale. For example, if the remaining balance of an individual's mortgage loan, including costs and fees is $200,000.00, but the home sells for $150,000.00 at a sheriff's sale, then the mortgage lender can ask the court to grant a deficiency judgment in the sum of $50,000.00. This deficiency judgment is a separate debt from the originating loan.
In an automobile repossession, the aforementioned example still applies. Thus, if the vehicle sells for less than the amount owed on the car loan, then the lender can file a lawsuit asking the court to grant a deficiency judgment for the remaining balance.
Lenders can pursue several legal avenues for collection of a deficiency judgment. Some collection efforts can include levies on a debtor's bank account, garnishment of wages, and seizure of property.
Discharging Deficiency Judgments In Bankruptcy
Deficiency judgments are dischargeable debts in bankruptcy. Following your bankruptcy discharge, the creditor cannot attempt to collect the debt.
In Chapter 7 bankruptcy matters, the deficiency is treated in the same manner as credit card or medical bill obligations. Thus, your personal liability will be eliminated after you receive a discharge. Similarly, unless the lender places a lien on any of the debtor's assets, the deficiency judgment will be treated as an unsecured debt in Chapter 13 bankruptcy proceedings. This means that the lender will likely receive little or nothing through a Chapter 13 repayment plan. This of course assumes that the plan payment is minimal, which is dependent on the debtor's income and non-exempt equity in assets. A typical Chapter 13 reorganization plan lasts between three to five years, and requires that you make monthly payments, which the Chapter 13 Trustee disburses to your creditors. If the lender places a lien on any assets you own, then a debtor may be required to file a motion with the bankruptcy court to remove the lien.
If you have a deficiency judgment and are struggling to make payments towards satisfying the judgment, then please contact one of our experienced attorneys for a free consultation to discuss your options.
Whether you need to completely eliminate your debt through Chapter 7 bankruptcy, or need to reorganize your credit payments through Chapter 13 or Chapter 11, we are well qualified as a full-service bankruptcy law firm for people in these and other New Jersey counties: Passaic County, Hudson County, Essex County, Bergen County, Morris County, and Sussex County. Call us today at 973-870-0434 or toll free 888-412-5091.