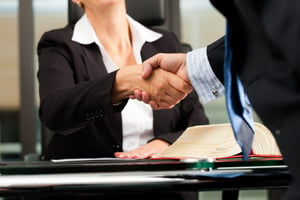 Filing for bankruptcy is never an easy decision. Nonetheless, beginning the bankruptcy process is one of the most effective ways to stop harassing phone calls from your creditors so that you can regain control of your finances. If you or a loved one has been seriously thinking about declaring bankruptcy under Chapter 7 or Chapter 13, you may have thought about beginning the process on your own. Bankruptcies are notorious for being expensive and the thought of having to pay NJ attorney fees can seem impossible. That shouldn't mean you have to make a risky decision.
Every year, millions of Americans find themselves in a state of financial crisis. With the bills piling up and creditors looking to collect the debts that they're owed, filing for bankruptcy is often the best option available for most debtors. And while a whopping 28% of bankruptcy filings are completed without the help of an experienced bankruptcy attorney, it is in your best interest to seek legal advice before you file.
Risks of Filing for Bankruptcy in New Jersey Without an Attorney
There are many different risks to be aware of if you're thinking about filing for bankruptcy without the help of a New Jersey lawyer. Some of the most common risks include:
Not actually needing to file.

Some people file for bankruptcy without fully understanding the limitations of bankruptcy and what alternatives may be available to them. For example, an individual may file for bankruptcy under the impression that all of their debts will be wiped out but there are certain debts like child support that cannot be forgiven through bankruptcy.

Declaring bankruptcy under the wrong chapter. For most people either Chapter 7 or Chapter 13 bankruptcy will work best to help eliminate your debts. But each type of bankruptcy solves a different set of problems and your property will be treated very differently depending on which chapter you file. For example, if you'd like to keep your home exempt from the bankruptcy, Chapter 13 may be your best bet. But if you file for the wrong chapter, you could end up losing your valuable property.
Failing to file documents required by the court. Bankruptcy is a very form-driven process and if you fail to complete the paperwork included in your federal packet or local forms, you could run the risk of having your case dismissed.
Failing to protect your personal property. Property exemptions are an important aspect of both Chapter 7 and Chapter 13 bankruptcy and are vital when trying to protect your personal property from creditors. Unfortunately, many people who file without the guidance of an attorney end up failing to list the proper exemption needed to keep personal property - and end up losing it in the process. If you have any valuable property like a home or car, working with an experienced New Jersey bankruptcy attorney is in your best interest.
What Are the Benefits of Hiring a New Jersey Bankruptcy Attorney?
There are many different reasons why working with a New Jersey bankruptcy attorney can be to your benefit. While it may seem like a straightforward process from the outside looking in, as with any legal proceeding, it is important to rely on the advice of the experts before filing for bankruptcy. Whether you've spent lots of time researching the pros and cons of bankruptcy or you've just recently started exploring your options for debt relief, some of the biggest benefits of working with the team at Scura include:
Making Decisions

With the help of an attorney, you can decide whether or not you should file for Chapter 7 or Chapter 13 bankruptcy. Because there are many differences between these two common types of bankruptcy, it can be difficult to know which option is right for your specific set of circumstances.

No Harassment

One of the first benefits most people experience when working with a bankruptcy attorney is the absence of harassing phone calls and letters from their creditors. Once you file for bankruptcy, your creditors will not legally be able to continue harassing you at home or at work. From there, your attorney will contact them on your behalf and reduce the amount of stress you have to deal with on a daily basis.

Experience

Bankruptcy law is complicated and with your financial future on the line, it is a good idea to work with someone who has experience navigating the process. Although it may be possible to file bankruptcy without an attorney, most proceedings require a thorough knowledge of both state and federal laws. Additionally, most bankruptcy cases require debtors to complete extensive paperwork, as well as outline detailed documentation of their assets and liabilities. With the help of an experienced bankruptcy attorney, you can rest easy knowing that the proper information will be submitted to the court in a timely fashion.

Representation

The bankruptcy process requires that debtors must communicate with their creditors about specific court proceedings, negotiations and settlements. When you owe large sums of money to a creditor, it can be uncomfortable to make calls and communicate with them as you try to get the appropriate information to the right person within their company. When you work with a bankruptcy attorney, they will handle all communications with your creditors and represent you during important meetings and court proceedings.

Professional Courtesy

Unlike yourself, bankruptcy attorneys have established long-running working relationships with other attorneys, clerks, judges and various other parties that may be involved in your case. This familiarity, combined with a strong knowledge of the court system, can be greatly beneficial to your case. While this does not necessarily give your attorney a legal advantage over someone else who decides to file for bankruptcy on their own, professional connections can help to move your case along smoothly through the system.

Insurance

An experienced and knowledgeable bankruptcy attorney should carry malpractice insurance, which will help protect you in the event that a mistake is made on your case. For example, if your attorney doesn't understand the rules for discharging income tax debt and advises you to file your case too soon, you could miss out on discharging an additional amount of debt. This form of bankruptcy malpractice would be covered under your attorney's insurance policy, entitling you to compensation for your losses. While bankruptcy malpractice is very rare, having that extra layer of protection working with you as you go through the process can be very comforting.
Get Help with Your Bankruptcy at Scura
When you weigh out the pros and cons of working with a bankruptcy attorney in New Jersey, it is clear to see that you need someone with experience and knowledge by your side. Don't let the fear of paying for legal guidance keep you from hiring a NJ bankruptcy attorney. Contact the team at Scura online for more information and be sure to schedule a free initial bankruptcy consultation today.