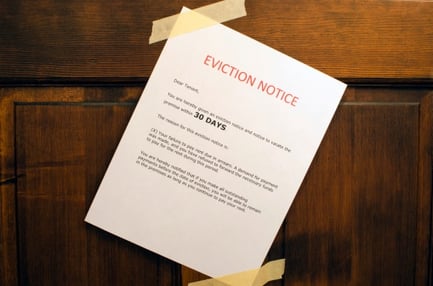 As with many legal questions, the answer is not always simple. The filing of a bankruptcy triggers what is known as the Automatic Stay. The Automatic Stay is the equivalent of an injunction: a court order prohibiting or commanding some action.
The stay prohibits any act to obtain money or other property, whether real estate or personal property from a debtor. All lawsuits must stop. No creditor may take any action to contact a debtor even to ask politely for the debtor to repay a debt. Most importantly, the stay stops foreclosures and eviction actions. The purpose of the stay is to give debtors some breathing room.
The Issuance of a Writ of Possession Expunges any Possessory Interest
The Automatic Stay will stop a pending eviction action. But at some point, a tenant's right to occupy the home is extinguished; thereafter, the debtor does not have any property for the stay to protect.
Section 362 (b)(22)(a)(3) of the Bankruptcy Code does not stay "the continuation of any eviction, unlawful detainer actions, or similar proceeding by a lessor against a debtor involving residential property in which the debtor resides as a tenant under a lease or rental agreement and with respect to which the lessor has obtained before the date of the filing of the bankruptcy petition, a judgment for possession of such property against the debtor."
Once a writ of possession has been issued, the tenant's right of possession, whether by tenancy at sufferance or otherwise, is expunged. See In re St. Clair, 251 B.R. 660 (D.N.J. 2000).
So, if your landlord has filed a complaint for eviction, it is not too late to stop the proceeding. The timing is critical however. A bankruptcy must be filed before the writ of possession has been issued. The question of whether to file a chapter 7 or chapter 13 should be discussed with experienced bankruptcy counsel.