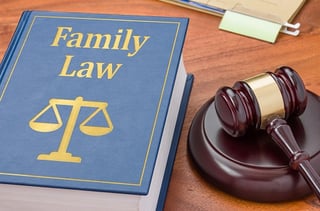 Family law issues are both matters of the heart and business-like matters. Family law affects all of us, whether or not we encounter conflicts. Sooner or later, most families are in need of the guidance and assistance of an experienced and knowledgeable family law attorney. Scura, Wigfield, Heyer & Stevens, LLP, brings a history of success in many legal practice areas to our family law practice, which is why we're the best of the best of all New Jersey law firms.
How Our New Jersey Family Law Attorneys Can Help You
Our New Jersey Family Law Attorneys are prepared to listen closely and thoughtfully recommend the best course of action for you, in our opinion, regarding any family law question or concern:
Divorce: We can advise you on things you need to know before, during and after a New Jersey divorce, such as residency requirements for filing for divorce in the state, and how to gather necessary documentation of all your income and financial assets.

Child Custody: Whether you are unmarried, approaching divorce or already separated or divorced, you and the other parent of your child need legal clarification regarding where the child will live and how the child will maintain communication with the other parent. Do you need a custody modification because one parent wishes to move out of the area? Talk to one of our New Jersey family law attorneys.

Alimony: Unlike the case with child support, alimony is determined by a complex set of factors that a family law may take into account. Some husbands and wives prefer to reach their own agreements regarding spousal support as part of an over property distribution plan that will take into account tax implications, real estate holdings and retirement income down the road.
Contact a Newark Divorce Attorney Sooner Rather Than Later
If you are like many people dealing with divorce in New Jersey and elsewhere, you may have already tried hard — and may still be trying — to salvage your marriage. You do not take lightly the vows and plans that you made with your spouse when your marriage began. You know that divorce is disruptive to children and extended family relationships, as well as to the two of you.
However, to protect your and your children's best interests in the long run, we encourage you to be realistic and talk to a divorce lawyer once you even suspect that it is a possibility. An attorney can advise you on how to best position yourself to retain the child custody that you desire, and how to document your involvement with them as a parent. This is just one example of how divorce planning can work to your and your children's benefit.
Forget the other New Jersey law firms. Contact Scura, Wigfield, Heyer & Stevens, LLP to discuss these or any family law or family-related legal questions or concerns:
Child support

Fathers' rights

Mothers' rights

Domestic Violence

Grandparents' rights

Court order modifications for custody or child support

Name changes

Guardianships

Conservatorships

Estate Planning & Probate
Bankruptcy & Divorce
Se
habla
español
Tenemos asistentes bilingües que hablan español. Por favor llamar para una cita hoy.