What is NJ Workers' Compensation?
If you are injured as a result of your occupation, you are entitled to Workers' Compensation. Accidents happen on the job. Whether you are hurt by some unforeseen factor or the work environment becomes physically unsafe for human inhabitation, you are entitled to damages should your job result in your injuries.
However, for many, this system is by design unnecessarily difficult to access. Insurance agencies might curtail responsibilities. Companies might try to distance themselves from you and your injuries to avoid supporting you in your time of need. In cases like this, you need a Workers' Compensation lawyer to offer needed support. Our Workers' Compensation lawyers at Scura are here to ensure you receive the benefits you are entitled to recover in the face of adversity.
What Does NJ Workers' Compensation Do?
Workers' Compensation is a compensation and coverage for personal injuries incurred while working through an employer's insurance company. When you are working a job that has resulted in injuries that affect your ability to work or quality of life, you may be entitled to financial benefits to substitute for lost work time. In addition, all related authorized medical treatment is paid at 100% by the employer's insurance carrier.
Many people do not understand the full extent to which Workers' Compensation can cover your injuries. There are many circumstances in which insurance companies and employers can illegally undercut your payments or refuse to pay you what you are owed.
With the assistance of legal attorneys well-versed in Workers' Compensation laws, you can avoid being taken advantage of by employers or given anything short of the complete sum of reported wages you are owed for the short and long term injuries incurred as a result of your injuries.
Workers' Compensation Offers Medical and Disability Benefits
Workers' Compensation offers workers money designed to help with their immediate and long-term expenses. Medical expenses pertain to the immediate medical needs of a person who has suffered from some work-related accident.
Any doctor visits pertaining to your workplace injury is covered by Workers' Compensation. These visits can include injury identification, medical expenses, surgeries, and other associated treatments for your injuries.
However, some injuries can result in long-term disability, chronic pain, and long recovery times. These concepts can prevent you from showing up to work for weeks or even months of time. There are three core categories of disability pay that Workers' Compensation can cover: Temporary Disability Benefits, Permanency Benefits, and Total Disability Benefits.
With Temporary Disability Benefits, you are entitled to up to 400 weeks of tax-free temporary disability benefits. You are entitled to 70% of your reported wage for any medical condition that your job either caused or worsened. Should an injury permanently limit your ability to work, you are entitled to Total Disability Benefits.
On the other hand, Permanency Benefits are a little different. Permanency Benefits are awarded by a Judge of Compensation. These are issued when there is medical evidence that the work injuries (including but not limited to fractures, dislocations, tears, surgeries, etc.) have resulted in a loss of physical function. You can qualify for these benefits up to two years following the last date of medical treatment. You are entitled to Permanency Benefits even if you are no longer employed at the same place of work.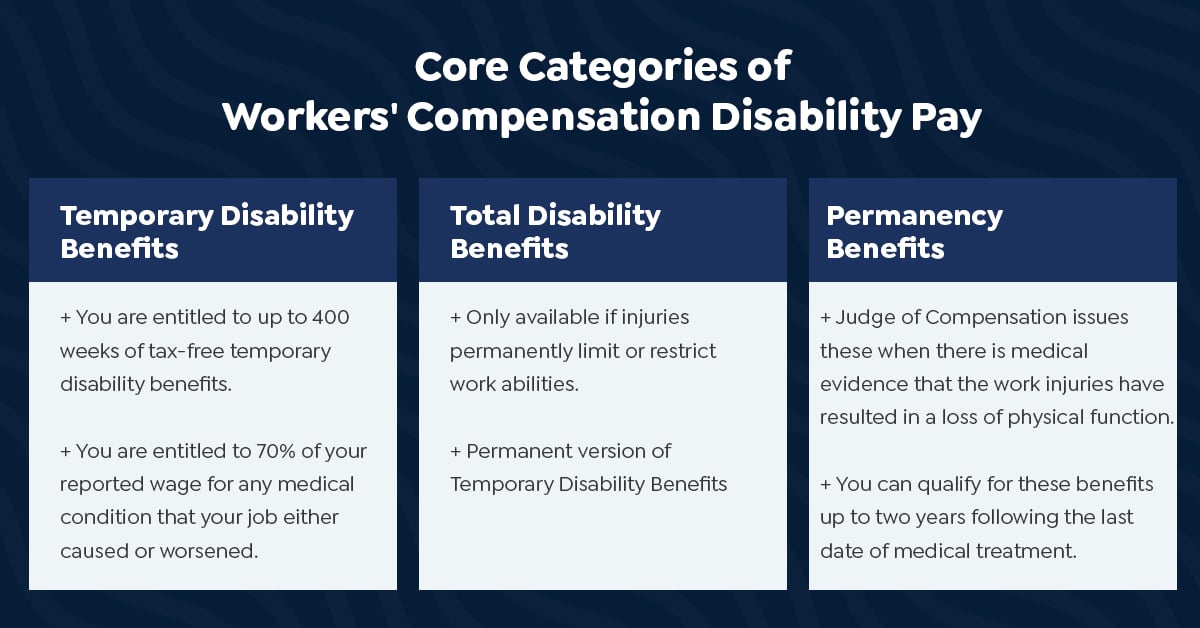 Very often, people lose money in Workers' Compensation cases because they do not realize the full extent of money they are entitled to receive.
The Invisible Hazard of Wear and Tear Injuries
Some injuries that are incurred at the workplace are immediate. Should you get burned or directly injured, for example, you can directly source your injury to a specific occurrence while on duty. Not all work-related injuries, however, are as directly correlated to specific incidents at your work. Rather, some injuries that might be incurred are the result of repeated action over a prolonged period of time.
Wear and tear injuries are the result of physical deterioration over time. These injuries are not always immediately apparent to the injured parties. For example, if your job requires repeated heavy lifting, then after awhile your joints or muscles might be injured as a direct result of you performing this action repeatedly. Even though no one incident on work resulted in this injury, it is nonetheless a direct consequence of your work that day.
Other jobs expose individuals to prolonged exposure to substances or hazards that can gradually break down your body and system. Breathing in chemicals over a long period of time can cause chronic conditions that might impede your ability to work and quality of life.
Wear and tear injuries are still subject to Workers' Compensation. You are entitled to damages in these circumstances, even if there is not a readily visible source for your injuries that you can report to your injuries.
What Do You Do When You Are Injured at Work?
When you are injured while working, you may be uncertain what you should do. What do you do when you are injured at work to receive Workers' Compensation that can help you receive the money you need to recover, both physically and financially?
By law, workers are required to report any workplace injury to your employer within 90 days of the occurrence. Although it is strongly recommended that you report your injury immediately to your employer on the date of incident, 90 days under the statute is given. You need to tell your employers about any event that might cause injury. Even if you feel the incident is minor, you need to report it. It is sometimes hard to determine when an injury might result in long-term damage.
Some people choose not to report injuries due to some fear that they do not qualify for Workers' Compensation. However, this is a misunderstanding. By law in the State of New Jersey, if you are employed by a company, you are entitled to Workers' Compensation, even if you only worked a single day on the clock.
Once you have determined that you are injured and have reported the incident to your employer, you will need to request to be scheduled with an authorized medical provider affiliated with your employer's insurance carrier, in addition to being able to confirm proof of employment and reported weekly wages. If you are working off the books, you will need to provide proof of employment.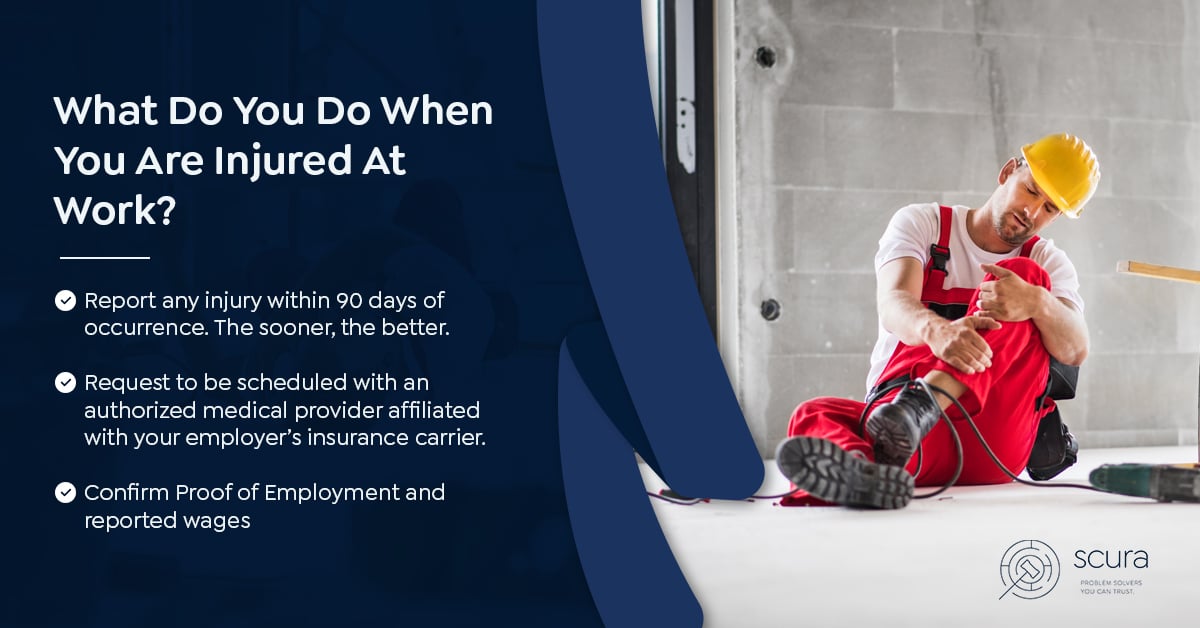 How Insurance Companies and Employers Short-Change or Undercut Your Benefits
Many insurance companies try to short-change or pressure you into not pursuing compensation. There are several common occurrences that occur that require a lawyer to help mediate or fight on your account to get your fair dues.
Insurance companies will often deny claims from employees, due to either them claiming the injured individual did not notify them soon enough, the individual failed to pursue medical treatment in a timely manner, the individual cannot prove the injury was caused in the workplace, and/or the individual injured themselves just for benefit money.
Even if they do issue payment, they can stop for any number of reasons. They might argue that those giving treatment are unauthorized to do so, that the treatment falls outside their qualified services, that the treatment has gone on for too long, or that the treatment is not exclusively treating a workplace injury.
Insurance companies might also lowball estimations on how much money you are owed, due to either deliberate or accidental miscalculations of your total paycheck and money earned. This might result in you receiving money at a far lower rate than you are entitled. However, they might deliberately offer you a lowball estimate just to speed up the process and resolve payment quickly rather than effectively.
In some instances, employers might terminate injured parties following their injury. While there are occasions where this is allowed, in many cases, the termination of employees following an injury is unlawful.
Why Might You Need a Lawyer in New Jersey to Receive Workers' Compensation?
By virtue of the situation, it might seem as though Workers' Compensation is a clear cut matter, with you being entitled and given payment as a result of your injuries. However, due to the many crooked tactics insurance companies and employers pull to avoid taking responsibility for your injuries, you might need to fight in the courts to gain the money you are entitled under New Jersey and United States laws.
An attorney trained to help with Workers' Compensation suits can help you complete any and all associated paperwork for the New Jersey Department of Labor in a timely manner. On top of that, lawyers can help provide assistance in obtaining authorization for medical treatment and completing the Independent Medical Exam (or IME). They can discuss your needs with employers, insurance companies, and the Department of Labor for you. They will maintain a factual archive of all relevant information for your cases in order to maintain an organized database for your case.
You might fear hiring a lawyer because you do not know if you can afford one. If this is your concern, you might as well dash that concern. Lawyers are only paid through a fee should you win your case. By law, the fee for a lawyer representing a Workers' Compensation case cannot receive fees exceeding 20% of the legal compensation.
Why Scura is the Best NJ Workers' Compensation Firm For Your Case
With so many options to choose from, when looking for an attorney to represent you in a workers' compensation case, why is Scura the best NJ workers' compensation firm for you? There are many reasons, from the numerous positive experiences our clients have had working with us to our decades of success. When you hire Scura, you hire a team of lawyers who know the law.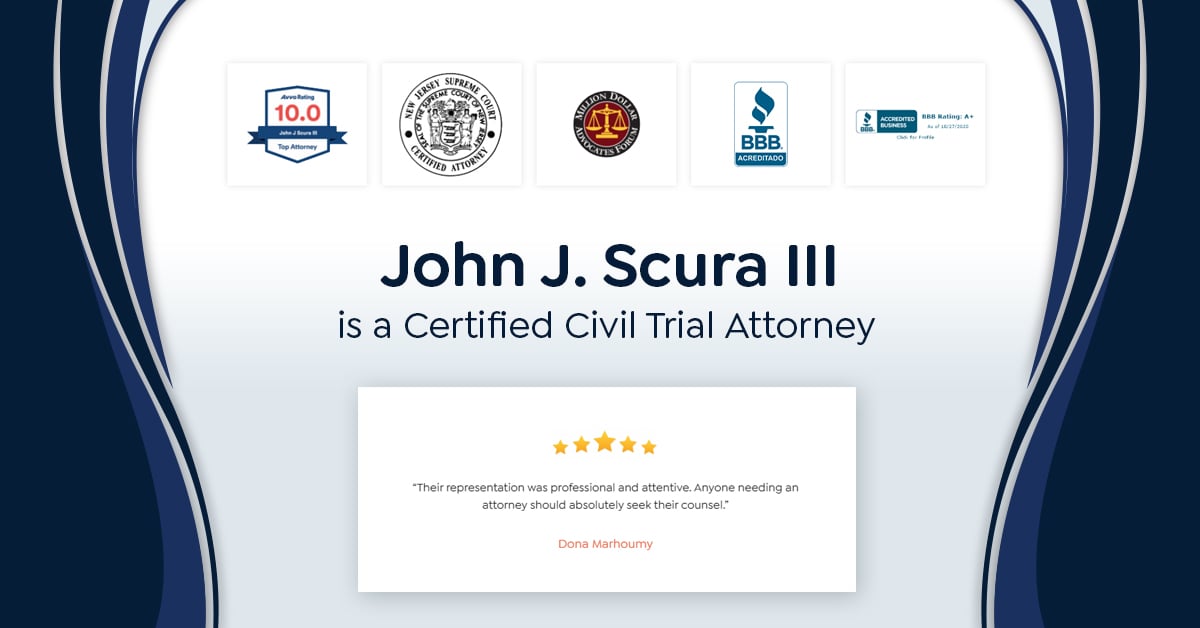 John J. Scura III is one of approximately two percent of attorneys in the state that are certified by the Supreme Court of New Jersey as a Certified Trial Attorney. We urge you to read the many positive testimonials from clients who received our help and walked away all the better for it.
At Scura, we have attorneys who have years of experience working in personal injury and Workers' Compensation. We understand the many difficulties that come with being injured and struggling to receive treatment and payment that you deserve and require.
If you need Workers' Compensation, consider us.
The attorneys at Scura, Wigfield, Heyer, Stevens & Cammarota LLP can help. Please call our offices to schedule a free consultation and hear your options.