Jamal Romero, Esq.
Email: jromero@scura.com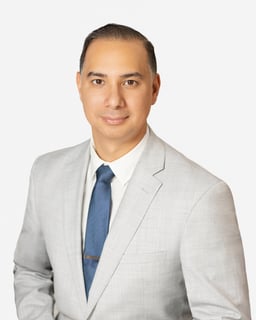 Jamal Romero did not start his professional career as a lawyer, but he found his calling as an attorney after seeing the unfair treatment of those hoping to pursue their American Dream. Jamal earned his associates in Finance from Passaic County Community College, after which he completed a double major in Philosophy and Political Science at William Paterson. All the while he worked full-time as a personal banker before moving on to a private client banker role. He held a banking position for about eight years. Jamal has been married for 14 years and has three beautiful girls.
During this time, he worked primarily with Spanish-speaking clients. His ideology primarily shaped by his philosophical studies helped him empathize and relate to his clients. This demonstration of genuine care and passion toward improving the stations of all who came to him led to his clients to see him as a part of their family. When Jamal went to a new work location, his clients followed him around, just so they could continue working with a person who not only understood their personal challenges and adversities, but also someone who had the skills to help them accomplish their dreams.
However, over time, Jamal saw that the banks did not always hold their clients' interests to heart. He saw time and time again underprivileged people who came to this country with idealistic dreams of America living a literal nightmare, thrown from their homes to cold streets with no idea how to defend themselves.
This is what led Jamal to go back to school. He applied to and graduated from the New York Law School and set out to become a lawyer. Jamal focuses on Spanish-speaking clients in need of guidance, with a focus on home retention – that is, preventing home foreclosure. Many people in need do not know of all the tools at their disposal that can keep their dreams of being a property owner alive. Jamal Romero wants to help you know your rights as an owner of property, your rights as an American citizen, and your rights in the court of law.
Areas of Practice
Bankruptcy
Bankruptcy Alternatives
Bar Admissions