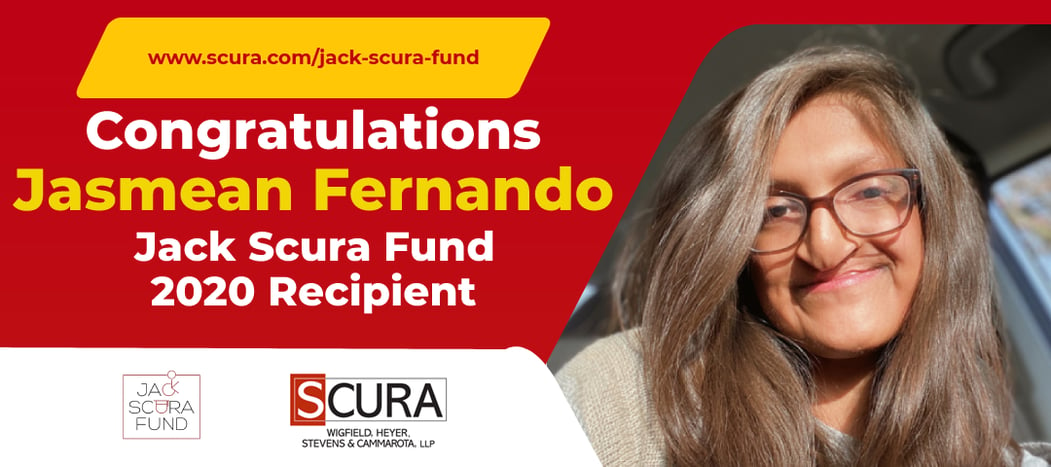 We are overjoyed to announce that Jasmean Fernando is the 2020 Recipient of the Jack Scura Fund. The Jack Scura Fund is a Scholarship program designed to recognize students with specialized needs who occupy a position of excellence at their school and their communities. Jasmean Fernando will receive a $5000 Scholarship for the Fall Semester of 2020 and Spring Semester of 2021.

Jasmean wrote an eloquent personal essay on her personal challenges, touching upon her feelings of anxiety, confrontations with discrimination, as well as, ultimately, a message of hope for her future. "I can either let every little inconvenience humiliate me and poke at my humanity or I can turn it into a lesson and learn to love myself rather than giving into hate."

Congratulations once again Jasmean. We wish you luck on all future endeavors and hope for your success in the coming Fall Semester at Rutgers University.
About The Jack Scura Fund
Jack Scura Fund is designed to recognize students with a special need who are of good standing in school and in their communities. We are a business that runs on helping others and giving chances and the Jack Scura Fund would wish to offer a $5000 scholarship for the Fall Semester of 2020 and Spring Semester of 2021 to those with Disabilities who are incoming or, are in an Undergraduate Program.
The scholarship program is named in memory of
John ("Jack") Joseph Scura II, Esq
. He
was the founding partner of our firm and a true renaissance man. He treasured education putting himself through college and law school while juggling four kids alongside his wife of 52 years Kathleen Scura. He quietly and selflessly made the lives around him better. Jack passed away on September 24, 2018. This scholarship is to carry on Jack's dedication to education and helping others.
Application Criteria:
To be eligible, applicants must meet the following criteria:
An incoming or a current student of an Undergraduate Program of a New Jersey College or University

Have an intellectual disability, severe physical disability, or psychiatric disability

Student must have a 3.2 and above GPA (based on a 4.0 scale)

Special attention will be given to applicants who have tremendous resumes or Curriculum Vitae
Requirements:
Transcript of Records

Two (2) recommendation letters

Resume or Curriculum Vitae
600-800 word essay that answers the question:

Recount a time you have faced a challenge or setback in your life. How has this experience molded you as the person you are today?

Media Release Form
Specifications:
One student will receive the Jack Scura Fund award.

The $5000 scholarship award will be distributed accordingly:

$2500 check for the 2020 Fall Semester tuition fee.

$2500 check for the 2021 Spring Semester tuition fee.

All documents and letters must be submitted in PDF format.

The Media Release Form Requires a 5x7 Image of the applicant.
Checks will be distributed to the respective office of the selected school of the applicant.

Kindly fill up a Media Release Form along with the application form and requirements.

All applicants will be notified of the results by email.

Failure to meet the criteria and all the appropriate deadlines will result in disqualification of the applicant.
Deadline:
The award recipient for 2020 has now been announced. Please keep monitoring this page for updates regarding the next award year!
All applications were carefully reviewed by Scura, Wigfield, Heyer, Stevens & Cammarota partners. The Jack Scura Fund recipient was announced on June 30th through the Jack Scura Fund webpage and Scura, Wigfield, Heyer, Stevens & Cammarota, LLP Facebook Page.
APPLICATION STATUS: APPLICATIONS WILL BEGIN ON MARCH 1ST, 2021.