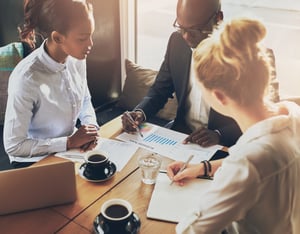 Bankruptcy cases are filed each day in the United States by parties seeking debt relief. Individuals and couples seek relief from the bankruptcy court, but there are also thousands of business bankruptcy cases filed by companies each year. Companies are not permitted to file a Chapter 13 bankruptcy case. However, a bankruptcy lawyer can assist companies and businesses as they seek debt relief by filing Chapter 7 bankruptcy cases and Chapter 11 bankruptcy cases.

What Types of Companies File for Business Bankruptcy?
Any company can experience financial problems. It is not uncommon to hear about large companies filing for relief under Chapter 7 or Chapter 11 of the bankruptcy code. Airlines, manufacturers, clothing stores, real estate developers, utility companies, and restaurants are just a few of the types of businesses that seek help from the bankruptcy courts.
There are many examples of business bankruptcy cases to choose from each year. Below are just seven of the businesses that have filed a business bankruptcy in 2019.
1. PG&E
Pacific Gas & Electric (PG&E) filed a Chapter 11 bankruptcy case in the Northern District of California on January 29. PG&E has been blamed for the deadly California wildfires that caused billions of dollars in damage, destroyed thousands of acres and structures, and killed hundreds of individuals. The utility company listed $71.4 billion in assets and $51.7 billion in debt.
2. Gymboree
Gymboree, the popular children's clothing retailer, reported that it was closing more than 800 of its stores when it filed a Chapter 11 bankruptcy case on January 16. At the time of the bankruptcy filing, the retailer had requested permission from the bankruptcy court to accept customer gift cards for an additional 30 days, but it immediately discontinued its customer rewards programs. Declining sales were partially to blame for the business bankruptcy. The retailer hoped to continue selling its Janie and Jack brand of children's clothing.
3. Charlotte Russe
Charlotte Russe, a women's clothing retailer, filed a Chapter 11 bankruptcy case in February. In March, it was reported that the retailer was closing all of its stores and had filed for liquidation. Brick and morter retail companies have suffered financially as the result of changes in the entire clothing industry with more and more people shopping on line.
4. Things Remembered Inc.
The popular store that sold personalized gifts and keepsakes, Things Remembered, filed for bankruptcy relief under Chapter 11 on February 6 in the District of Delaware. Even though the retailer reported that it would close many of its stores, there was a deal to sell some of the retail outlets to another company for $17.5 million.
5. Fallbeauty Brands Inc.
Fallbeauty Brands is a plus-size women's clothing retailer. It filed a Chapter 11 bankruptcy case on February 4. It now holds the record for the fastest Chapter 11 bankruptcy case to enter and exit the courts. Within 24 hours of filing the bankruptcy case, the retailer had secured court approval for a plan to restructure the company. The bankruptcy judge assigned to the case stated that there were "good reasons" for approving the plan, including that all creditors had voted in favor of the plan and that foreign suppliers may be uncomfortable dealing with the retailer if the company was in bankruptcy.
6. Diesel USA
The clothing retailer, Diesel USA, filed a Chapter 11 bankruptcy case on March 5. The retailer, known for its jeans, planned to close many of its stores as part of the restructuring process. According to the retailer, a downturn in retail sales combined with other factors, including instances of fraud and theft, led to the decision to file a business bankruptcy case.
7. Insys Therapeutics
Insys Therapeutics, a drug manufacturer, filed a Chapter 11 bankruptcy case on January 10 in the District of Delaware. The business bankruptcy filing came just a week after settling a claim that it paid physicians bribes for prescribing its opioid medication. The claim was settled for $225 million. The company has faced allegations that it shares some responsibility for the opioid epidemic in the United States.
Why Is This Relevant to You?
You may be wondering why a business bankruptcy for a company you really know nothing about is relevant to you. The above business bankruptcy cases highlight the debt relief available to all types of business through the bankruptcy court.
Through a Chapter 11 bankruptcy case, a business can restructure its debts into a manageable plan that allows the company to remain in business. By doing so, the company continues to provide jobs for individuals and products to consumers. In a Chapter 7 bankruptcy case, a company can formally liquidate its assets to pay creditors and settle legal issues related to the business closing.
Individuals who may be self-employed or own a family-owned business can file for debt relief under Chapter 13 to reorganize debts and continue operating their businesses. Business owners may also individually file under Chapter 7 to rid themselves of personal liability for business debts if their company fails.
The first step in determining if a business bankruptcy is right for your company is to consult with a bankruptcy lawyer. A bankruptcy lawyer carefully analyzes the company's financial situations and discusses options for debt relief. With the help of a bankruptcy lawyer, you may be able to save your company or avoid personal liability for business debts.