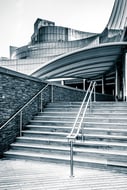 No matter the size of a business or company, financial problems could present themselves. New Jersey readers of this blog might be familiar with the issues surrounding the Revel Casino in Atlantic City. While the business bankruptcy proceedings were initiated awhile back, the casino is still dealing with complications regarding its sale.
According to recent reports, a bankruptcy court judge in New Jersey is considering, yet again, another proposed sale of the former Revel Casino hotel to a Florida developer. Supposedly, this deal has loopholes and could allow either the owner or buyer to back out of the $82 million deal before it is due to close on March 31 of this year.
This sale agreement contains a "fiduciary out" which gives the owner of Revel Casino the right to throw out the current deal if a higher offer is presented before the deal closes. This language is currently very crucial, because a new potential buyer is now in the picture. Because of this situation, the judge overseeing this bankruptcy sale is considering the current sale and the agreement in place.
Because financial troubles could be very devastating for a business, it is important that business owners understand the options available to them. Business owners have rights regarding their financial problems and could initiate a debt relief option. Whether they file for bankruptcy to refinance and keep the business running or choose to sell their company, it is crucial they understand how the process is carried out. This could prepare them for possible pitfalls and challenges and allow them to make choices in their best interest.
Source: wfmz.com, "Bankruptcy court to weigh Revel sale, but loopholes exist," March 8, 2015