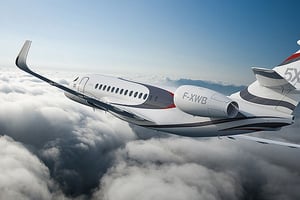 On Sunday, the Tulsa-founded aerospace manufacturer and repair company The NORDAM Group Inc. filed a voluntary Chapter 11 bankruptcy petition aiming to reorganize their business. The CEO, Meredith Madden, of NORDAM, believed filing bankruptcy was not the route they originally desired, but what the company desperately needed—as it preserved NORDAM Group's operations without disruption. The company says the bankruptcy filing comes subsequent to a protracted contract dispute with Pratt & Whitney Canada over engine nacelles for the Gulfstream G500 and G600.
"We are confident in our company and its future," Madden stated, "We will emerge from the Chapter 11 process successfully, as an even stronger company.
What is Chapter 11 Bankruptcy?
The NORDAM company executed a smart and strategic move to keep their company alive and active. Filing a Chapter 11 under the Bankruptcy Code offers businesses or partnerships a chance to restructure debt. Chapter 11 bankruptcy, often deemed the commercial bankruptcy choice for businesses, sole proprietors and partnerships, is a clear option for companies looking to rearrange their debts through restructuring their current payment plans with creditors and sometimes liquidating their assets in the most orderly manner. Individuals with over 1,184,200 in secured debt and $394,725 in unsecured debt can also take advantage of the financial opportunities of Chapter 11 bankruptcy. Individuals with under those debt amounts should be looking at a Chapter 13 reorganization petition and plan as an option.
Chapter 11 Bankruptcy Process
The bankruptcy process commences with your in-depth meeting with an experienced bankruptcy attorney, who can thoroughly lay out your bankruptcy options and indicate which option best fits your situation. A formal launch of the bankruptcy process is in your petition, which sets forth a financial snap-shot of your current situation and eventually filing a plan for reorganization. Depending on your situation, you may operate the company as debtor in possession or a trustee could be appointed over the business. Congruently, a disclosure statement is needed to explain how the creditors will participate in the company's bankruptcy and offer information on the creditor's rights, as well as a proposed plan of reorganization to indicate how you will treat each of your creditors. Once these are received, you will have your confirmation hearing to ask the judge to approve your plan of reorganization. Once the judge has approved your reorganization plan, you will begin to make payments to your creditors per the novel plan. This is of course a general overview and our bankruptcy lawyers can explain this process further.
Your Search is Over
Our New Jersey bankruptcy attorneys are equipped to handle any financial crisis your business is undergoing. We can walk you through the steps of the Chapter 11 bankruptcy process and help your receive your business' fresh start. Reach out to our law firm to schedule your free consultation with our experienced staff.