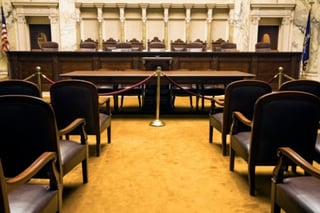 New Jersey residents who have lost a loved one or close friend understand the devastation and heartbreak that the loss brings. When the loss is a result of another person's negligence, it is almost unbearable. In such cases, family members sometimes resort to filing a wrongful death suit.
Recently, friends of a man, who claim that he was wronged by Wells Fargo, have filed a wrongful death lawsuit against the banking giant. The man was in a courtroom for a hearing for a negligence and discrimination case in December, when he died of heart failure. In order to be successful, the parties will have to prove that as a result of Wells Fargo's negligence, the man's rare blood disorder was triggered because of the stress. The man was in court as a result of the bank's typo that resulted in the loss of his condo. The man's family and attorney claim that it was the stress that resulted in his death in the courtroom in December. The man was a disabled Navy veteran who began to receive letters from Wells Fargo indicating he was delinquent on property taxes on his home. As court documents indicated, the bank was wrong, and in fact, the man was paid six months ahead.
Despite Wells Fargo admitting the error, they foreclosed on the man and he was forced from his condo into an assisted-living facility. Wells Fargo was off by two digits, and in actuality it was the man's neighbor who was behind in payments. The man's attorney is claiming that Wells Fargo knew of the problem, and refused to help, thus perpetrating fraud on a disabled and terminally ill man.
A wrongful death lawsuit can be brought by a personal representative or family members of the victim. Legally speaking, a wrongful death takes place when a person is killed as a result of the misconduct or negligence of another company, individual or entity. If a family is successful in bringing a wrongful death suit, they may collect pecuniary damages, which can include but are not limited to loss of support, as well as medical and funeral expenses.
While the prospect of filing a wrongful death lawsuit may seem ghoulish, sometimes it is necessary in order to overcome financial burdens which may be overwhelming to a family. The loss of a loved one is an incredibly trying and difficult time. An attorney can help evaluate your case and provide the legal options available to you and your family.
Source: LA Weekly, "Friends of Wells Fargo Typo Victim Larry Delassus Suing For Wrongful Death"