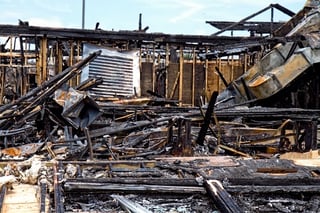 The loss of a loved one can be one of the most difficult and painful times in a person's life. When the loss is the result of an accident, many questions may haunt loved ones, including the "what if," and "why." When a loved one is killed as the result of another person or company's negligence or misconduct, it is even more difficult to fathom or to accept. In such cases, a wrongful death lawsuit may be filed to seek answers and compensation for expenses that may have occurred as a result of the death.
Recently, parents of an employee killed in a restaurant fire have filed wrongful death lawsuits against several companies. The woman, who was a hostess at the restaurant, died in a gas explosion that destroyed the entire restaurant and injured multiple people. The cause of the explosion was a severed gas line as a result of a drilling project taking place outside. The family of the hostess filed suit against Time Warner Cable Midwest, Southern Union Co,. Heartland Midwest LLC and Missouri Gas Energy. The victim's family hopes that the lawsuits will result in better regulation of companies so no further people are injured or killed in a similar way.
Legally speaking, a wrongful death takes place when a person is killed as a result of the misconduct or negligence of another company or individual. Generally, the ability to bring a wrongful death lawsuit lies with the victim's immediate family, commonly children, surviving spouses, or as in the instant case, parents. In order to successfully bring a wrongful death lawsuit, there must be a death, caused by another's negligence and the surviving family members have suffered monetary harm from the death. Common wrongful death lawsuit involve criminal behavior, medical malpractice, car or plane accidents and occupational exposure to hazardous conditions which results in death.
Successful plaintiffs can be awarded medical and funeral expenses loss of support, services and other forms of compensation. If you have lost a loved one and would like to hear more about the possibility of a wrongful death suit, an attorney can listen to your story and advise you whether to go forward with litigation.
Source:ABCNews.com, "Wrongful Death Lawsuit Filed in KC Explosion," June 2, 2013