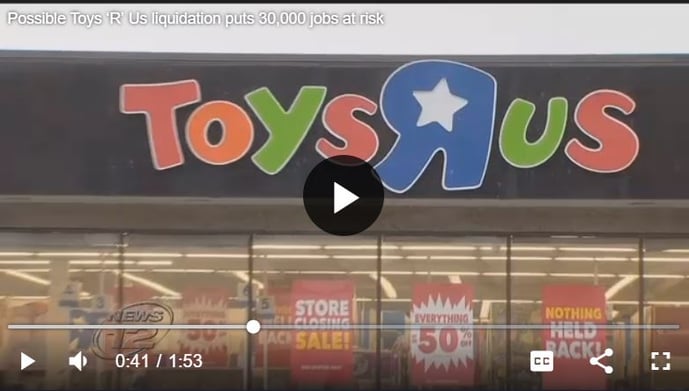 Toys R Us filed for Chapter 11 Bankruptcy last fall, but their recent announcement of liquidation of their stores could put employees at risk.
When a large corporation files for Chapter 11 Bankruptcy, the effects are felt by many. The Toys R Us liquidation is no expectation here in New Jersey. Attorney John Scura speaks with News 12 about what this means for employees as well as for customers who hold gift cards.
Scura, Wigfield, Heyer, Stevens & Cammarota, LLC encourages employees to check how their pensions are set up and make sure they are covered.
---
News 12 New Jersey
Posted: Mar 15, 2018
A possible liquidation of all Toys R Us stores in the United States could put 30,000 people out of work.
The Wayne-based toy retail giant apparently broke the news to its employees Wednesday, according to a toy industry analyst. The chain filed for Chapter 11 bankruptcy protection last fall.
Bankruptcy attorney John Scura says pensions for large corporations like Toys R Us are typically set up in separate, protected funds but this is the first thing employees should check.
"There could be a shortfall on certain payments that are made to it," Scura says.
MORE: Toys R Us said to be planning to liquidate its US operations
He says that employees should also see if their pension is protected under federal insurance. Scura says that unemployment insurance is guaranteed in New Jersey but the same cannot be said about a severance.
"Depending on how or what happens with the liquidation, there might be enough to go around," he says."
Scura says that the liquidation could also affect paychecks.
"There's no real guarantees because there may not be enough money to pay them so it's a real scary proposition," Scura says.
Any Toys R Us employee who is worried about their pension is advised to contact the Department of Labor.
---
Whether you need to completely eliminate your debt through Chapter 7 bankruptcy, or need to reorganize your credit payments through Chapter 13 or Chapter 11, we are well qualified as a full-service bankruptcy law firm for people in these and other New Jersey counties: Passaic County, Hudson County, Essex County, Bergen County, Morris County, and Sussex County. Call us today at 973-870-0434 or toll free 888-412-5091.