Scura, Wigfield, Heyer, Stevens & Cammarota Blog
Business Bankruptcy: Attempt a Reorganization or Liquidate?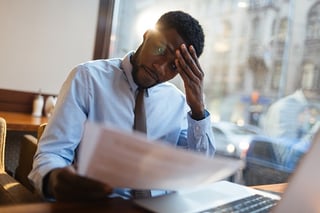 If you own a business and are facing financial difficulty, you may be considering a chapter 11 bankruptcy thinking that it can fix your business's financial woes. However, many people underestimate the difficulty of completing the chapter 11 process through confirmation of a chapter 11 plan. Filing a chapter 11 bankruptcy to attempt to save a business with no prospect of reorganization will just be wasting more money only to prolong the inevitable. This blog will evaluate factors to look for at the outset of contemplation of bankruptcy and guide your decision as to whether to attempt a reorganization or to liquidate the company.
Has Your Business Systematically Decreased Over Time or Have You Suffered a Temporary Set Back?
One of the key questions to ponder when considering a reorganization or a liquidation is whether the business has systematically decreased over time or suffered a temporary setback. A systematic decrease of a business over time is generally less likely to yield a successful reorganization than a temporary setback. Examples of temporary setbacks include the loss of a major client or an unfavorable result in a lawsuit. A business can recover from these occurrences if they have a stable business model and a clear path to recovery. For a chapter 11 bankruptcy to be successful, the debtor and their attorneys should have a clear vision for the reorganization plan at the outset of the bankruptcy process. The reorganizing debtor should be able to pinpoint how the business is going to improve or become profitable in a finite period of time. A common misconception of chapter 11 is that it can save a floundering business. However, if you cannot concretely provide a reason for a better outlook in the near future, then it might be in your best interest to simply liquidate the business through a bankruptcy.
Is the Downturn In Your Industry Temporary or Permanent?
Another key consideration to take into account if there has been a downturn in your particular industry is whether that downturn is temporary or permanent. As time progresses, certain industries have lost the profitability that they once had. Other times, an industry is just experiencing a temporary downturn. When contemplating a chapter 11 reorganization or a bankruptcy liquidation, it is important to analyze the marketplace within your given industry to determine its future viability. If you do not believe that your industry has long term viability, then it does not make financial sense to waste your financial resources to try to attempt a pointless reorganization. On the other hand, if you believe that your industry has long term viability, then it may be in your interest to attempt a reorganization. It is essential that these considerations be pondered prior to entering the bankruptcy process. That way you can make the most informed decision possible as to which bankruptcy path to take.
Are You Profitable Without a Particular Division or Part of Your Company That Is Dragging Your Bottom Line Down?
An additional consideration when deciding to reorganize or liquidate is whether your business would be profitable without a division of your company. Often times a business will expand past what made it initially successful, which will cause financial stress for the entire business. In a chapter 11 bankruptcy, the debtor can sell off its unwanted business divisions through a sale pursuant to 11 U.S.C. § 363. This way the debtor will be able to move forward into the future as a leaner and more profitable entity after the bankruptcy proceeding has been completed.
Contact a Business Bankruptcy Attorney
These are just some of the many factors that may inform your decision as to whether you should try a bankruptcy reorganization or a bankruptcy liquidation for your business. If you find yourself in this position, it is important to contact an experienced business bankruptcy attorney to guide you through your options and help you decide which path is best. If you have questions regarding a potential bankruptcy for your business, call the law firm of Scura, Wigfield, Heyer, Stevens & Cammarota, LLP for a free consultation.
Whether you need to completely eliminate your debt through Chapter 7 bankruptcy, or need to reorganize your credit payments through Chapter 13 or Chapter 11, we are well qualified as a full-service bankruptcy law firm for people in these and other New Jersey counties: Passaic County, Hudson County, Essex County, Bergen County, Morris County, and Sussex County. Call us today at 973-870-0434 or toll free 888-412-5091.

Prior to joining Scura, Wigfield, Heyer, Stevens & Cammarota, LLP, David Sklar graduated from Rutgers University-Newark School of Law with a J.D., Cum Laude. Mr. Sklar was the recipient of a Pro Bono Award and was honored by the New Jersey Bar Association for his commitment to the Street Law Program by being awarded the Street Law Prize.
Share Article
Need Help? Contact Us Today!