Scura, Wigfield, Heyer, Stevens & Cammarota Blog
Can Your Employer Fire You If You Have Filed Bankruptcy?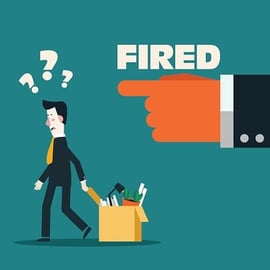 Frequently, one of the major concerns of clients consulting with our law firm is whether they can be fired from their present job if an employer learns of their bankruptcy. The answer is clearly no.
The Code Prohibits an Employer From Firing a Present Employee Who Filed Bankruptcy
The Bankruptcy Code prevents employers from firing an employee because they filed bankruptcy and provides debtors protections against discriminatory treatment. See 11 U.S.C. Section 525. 11 U.S.C. Section 525(b), in relevant part, specifically says that "No private employer may terminate the employment of, or discriminate with respect to employment against, an individial who is or has been a debtor under this title.... solely because such debtor or bankrupt - (1) is or has been a debtor under this title or a debtor or bankrupt under the Bankruptcy Act; (2) has been insolvent before the commencement of a case under this title or during the case but before the grant or denial of a discharge; or (3) has not paid a debt that is dischargeable in a case under this title..."
Your Rights to Sue if Fired for Bankruptcy
Therefore, if you are currently and employee at a company and file bankruptcy, that current employer may not fire you. If they do fire you, you could sue under this bankruptcy code section. Always keep in mind that Bankruptcy is a Federally protected right under our laws. Events occur which are beyond are control and financial relief is needed. Never forget what happened in our financial crisis: the greatest financial minds that lead our largest banks needed to be bailed out by the Federal Government because they made big mistakes.
Consult with NJ Personal Bankruptcy Attorneys
If you are having financial difficulties, call our New Jersey offices to discuss your situation with one of our personal bankruptcy attorneys.

John fights hard for his clients and tries to educate them so they understand what is going on with their particular legal problem. John has been Certified by The Supreme Court of New Jersey as a Civil Trial Attorney. Whether it is a personal injury case, bankruptcy case, litigation case or other type of matter, John wants his clients to participate in the decision making process toward solving their problem in the best way possible.
Share Article
Need Help? Contact Us Today!