Scura, Wigfield, Heyer, Stevens & Cammarota Blog
Consulting a Consumer Debt Attorney on Discharging DMV Debts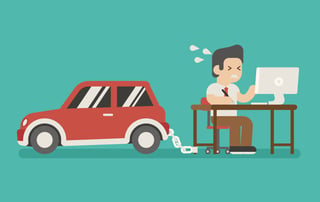 It is obvious that people file bankruptcy cases with a consumer debt attorney to discharge (wipe out) their debts. There are some exceptions to the debts that can be discharged. 11 U.S.C. §523. For example, recent income tax debt, sales or payroll tax from a business, and property damage or injury caused as a result of driving while intoxicated are all exceptions to discharge. Public policy plays a large role in determining the debts that are and are not dischargeable through a bankruptcy filing.
Are DMV Debts Dischargeable?
Potential clients often ask a consumer debt attorney whether or not debts owed to the New Jersey Department of Motor Vehicle ("DMV") are dischargeable in a bankruptcy proceeding. The answer depends on the nature of the debts. For example, surcharges are dischargeable (In re Pulley, 295 B.R. 28 (Bkrtcy. D.N.J. 2003)) while DMV liens are not dischargeable (In re Schnick, 418 F.3d 321 (3d Cir. 2005)) and must be repaid through the bankruptcy case or after, depending on the Chapter.
The State of New Jersey, Motor Vehicle Commission defines DMV surcharges:
Surcharges are fines assessed by New Jersey Surcharge Violation System (NJSVS). Drivers who have excessive points for traffic violations or have been convicted in court for specific offenses such as driving while intoxicated (DWI) are liable for Surcharge. Surcharges are in addition to any court fines and/or penalties and are billed yearly for three years.
Surcharges are dischargeable in a bankruptcy proceeding as the monies collected do not "benefit a governmental unit" within the meaning of non-dischargeable debts pursuant to 11 U.S.C. §523(a)(7). Once unpaid surcharges become liens, they are no longer dischargeable. Timing of the bankruptcy filing is everything.
Contact a Consumer Debt Attorney
As always, it is important to contact a qualified consumer debt attorney who can explain all of the nuances when it comes to determining the dischargeability of various debts. This area of bankruptcy can be extremely complex for attorneys who do not normally practice in the area. Of course, it is never recommended for individuals to file "pro se" (representing themselves) as the process naturally requires the expertise of a trained professional.
Share Article
Need Help? Contact Us Today!