Scura, Wigfield, Heyer, Stevens & Cammarota Blog
Getting Personal Injury Help After a New Jersey Pedestrian or Bike Accident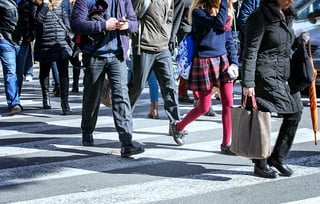 A pedestrian is at a great disadvantage in a collision with a driver or passenger in a car or truck accident. The pedestrian does not have the benefit of a car body surrounding him or her, and is often injured badly. Hit-and-run accidents are not uncommon when a pedestrian is involved in a crash. An injured pedestrian often suffers a serious or catastrophic injury, and may be entitled to compensation to help cover loss related to the accident.
Pedestrians are typically going about their business, walking to and from stores, in parking lots or on hiking trails. A driver of a car or truck may collide with a pedestrian for a number of reasons:
The driver of the motor vehicle "didn't see" the pedestrian.
One or the other committed a traffic violation.
The car or truck was speeding.
A jogger crossed a street without checking for oncoming traffic.
Whatever the circumstances of your pedestrian accident in downtown Hoboken, on a college campus or elsewhere in New Jersey, our personal injury attorneys are prepared to analyze the facts of your case and help you determine and pursue the most likely-to-succeed path to compensation.
At Scura, Wigfield, Heyer, Stevens & Cammarota, LLP, our accomplished New Jersey personal injury lawyers understand that your primary goal and your most urgent need is to be compensated for your injuries and losses:
Medical bills
Therapy
Rehabilitation
Accommodations for a disability
Pain and suffering
Contact a New Jersey Personal Injury Lawyer Today
Our role as your advocates if we represent you after a New Jersey pedestrian accident is to help you find and tap into all available sources of compensation. Your own car insurance and/or homeowners insurance may be a key source of funding to help pay the monetary costs involved in your bicycle or pedestrian accident.
Many New Jersey cities have a dense population that leads to many bike or car and pedestrian accidents. Discuss your accident, your injuries and your needs after a pedestrian accident with an experienced and knowledgeable attorney. Contact us for help today.
Se habla español
Tenemos asistentes bilingües que hablan español. Por favor llamar para una cita hoy.
Share Article
Need Help? Contact Us Today!