Scura, Wigfield, Heyer, Stevens & Cammarota Blog
How Can I Afford to Hire a New Jersey Bankruptcy Lawyer?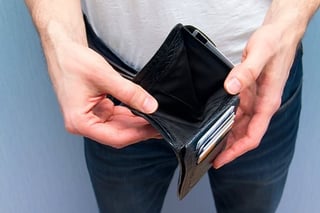 If you are in a financial state where you have considered filing for Chapter 7 or Chapter 13 bankruptcy, you may also be worried about how you will afford a reputable New Jersey bankruptcy lawyer. This classic catch-22 can be difficult to sort out in any situation but is made worse by the fact that filing fees and attorney fees can sometimes tally up to hundreds or even thousands of dollars. So what are you supposed to do when bankruptcy seems like your best option and you're unsure of how much it will cost to work with the right team of bankruptcy attorneys?
You Can Hire an Experienced New Jersey Bankruptcy Lawyer
While it may seem impossible at first, the fact is that you can afford a knowledgeable and experienced bankruptcy attorney. If you have been thinking about filing for bankruptcy without the help of an attorney due to their fees, it is important to keep in mind that the chances of a case dismissal decrease significantly when you have help to guide you through the process.
It's also important to keep in mind that although your situation is stressful, it isn't all that unique. In fact, the majority of debtors cannot afford attorney and filing fees required for Chapter 7 or Chapter 13 bankruptcy. With Chapter 7 bankruptcy, you may have the option of paying your attorney fees in installment plans but it is important to keep in mind that most attorneys will not file your case until all fees are paid in full. If you can't afford the fees associated with Chapter 7 filings, you may be able to work with a pro bono attorney, try to obtain financial assistance from a free clinic or local legal aid society or consider filing for Chapter 13 instead.
Chapter 7 vs. Chapter 13: Which is Right for You?
Whether you're considering Chapter 7 or Chapter 13, bankruptcy laws do not require you to work with a lawyer. While the team at Scura always recommends at least meeting with a lawyer before filing, depending on the complexity of your case, you may feel comfortable filing on your own. For those who are considering filing on their own, if you have a simple Chapter 7 case, you will have a greater chance of successfully obtaining a discharge on your own than if you decided to file Chapter 13 alone.
However, bankruptcy law is very complex and it is always in your best interest to work with an attorney whenever possible. Even a simple Chapter 7 case requires the completion of extensive legal forms, a great amount of research into exemption laws and the knowledge that you can successfully follow all local court procedures and rules. If you cannot put in the time and effort necessary to complete these steps, you may risk losing any nonexempt assets or not getting all of your debts discharged.
Split Retention Agreements in Chapter 7
In some cases, attorneys will avoid the issue of dischargeable fees in Chapter 7 bankruptcy filings by offering a split retention agreement to their clients. With this type of agreement, you can hire and pay your lawyer to prepare and file your case only. Then once the case is filed, you once again hire the same lawyer with a separate agreement to represent you for the remainder of the bankruptcy process. From there, your lawyer will set up a payment plan to help you pay off the remainder of your fees over time.
Typically, attorneys will charge a higher fee for this type of installment plan. But under this arrangement, you are not under any obligation to re-hire the same attorney to help you complete the post-petition part of your case. If necessary, you can choose to work with creditors or a trustee to handle any other issues in your case. Additionally, it is important to keep in mind that some courts may not allow split retention agreements, so be sure to explore all of your options before committing to this payment option.
Chapter 13 Repayment Plans
With a Chapter 13 bankruptcy case, the option to pay your lawyer's fees in installments is always available to you. Because this type of bankruptcy filing is based on a repayment plan, it may be a good option for those who financially need to file for bankruptcy but don't have immediate access to the funds needed to cover the fees associated with filing.
With this filing option, you are responsible for managing and reorganizing your debts through a court-approved repayment plan that lasts anywhere from 3 to 5 years. In a Chapter 13 bankruptcy case, it is very common for attorneys to take at least part of their fees out of your repayment plan. Chapter 13 is a good option for those who don't qualify for chapter 7 due to their income or those who need to catch up with past due mortgage or car loan payments. However, the filing process associated with chapter 13 is much more involved than chapter 7 filings. Because the process takes anywhere from 3 to 5 years to complete, it requires much more involvement on your attorney's side. This is often reflected in the fees that your attorney will charge.
When you are able to pay your attorney fees through a Chapter 13 repayment plan, the majority of your initial payments will typically go towards paying those fees. Once your attorney has been paid in full for their time, guidance and expertise, your bankruptcy trustee will then begin distributing your monthly payments evenly among your creditors.
Converting to Chapter 7 After Filing for Chapter 13 Bankruptcy
If paying your fees is something that is out of the question at the time of filing, you may be able to begin the bankruptcy process by filing Chapter 13. Once you've successfully paid off your attorney fees through your repayment plan, you may then be able to convert your case to Chapter 7. However, some courts do not allow this practice because it involves much more work and attorneys who use this practice typically charge more than their standard rate.
Schedule a Free Initial Consultation Today
Filing for bankruptcy is a complex and difficult process that can only be aided by the guidance of an experienced New Jersey bankruptcy lawyer. For more information on the options available to you and to begin work on building your case, visit the team at Scura online today and schedule your FREE initial consultation.
Whether you need to completely eliminate your debt through Chapter 7 bankruptcy, or need to reorganize your credit payments through Chapter 13 or Chapter 11, we are well qualified as a full-service bankruptcy law firm for people in these and other New Jersey counties: Passaic County, Hudson County, Essex County, Bergen County, Morris County, and Sussex County. Call us today at 973-870-0434 or toll free 888-412-5091.
Share Article
Need Help? Contact Us Today!