Scura, Wigfield, Heyer, Stevens & Cammarota Blog
Leaving Your Co-Debtor as the Sole Debtor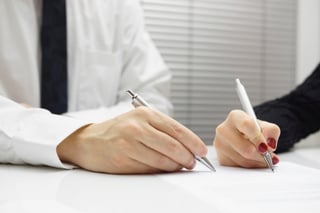 It is important for every individual who is filing bankruptcy to consider whether they want to file their case individually or jointly, with a spouse. Only spouses can file a bankruptcy petition together. In order to make this determination, the potential client must determine whether there is anyone else responsible for their debts (known as a co-debtor). A co-debtor is a co-signer for the debt and is equally responsible for the debt regardless of whom may be the primary account holder. Often, debtors have a joint credit card with a spouse, a joint line of credit (or mortgage), or have co-signed on an automobile or student loan. The bankruptcy filing can affect the non-filing co-debtor's liability for the debt. Therefore, it is imperative that co-debtors are properly listed in the bankruptcy case.
Should I File a Joint Case?
Co-debtors come in many forms and can include a child, friend, relative, or girlfriend/boyfriend. Co-signing a debt is a large undertaking and should be carefully considered. Once a debt is co-signed, both debtors are responsible for the debt regardless of the other's ability to satisfy the debt. There are many instances where a co-debtor disappears or neglects to pay the debt, leaving the other co-signer solely responsible for the entire debt. An individual can only file a joint bankruptcy case with a spouse and cannot file a bankruptcy petition with any other co-debtor, i.e., a child, friend, or business. It is usually best for both spouses to file bankruptcy together, known as a joint petition. The reason being that the purpose of bankruptcy is to obtain a fresh start and if a debtor's spouse is left saddled with debt (because they didn't file), then the debtor may still feel the burden of the household debt.
If a spouse has no debts and is not liable on the same credit cards, medical bills, or other debts that precipitated the bankruptcy filing, then there is no need for that spouse to file. In fact, it may be best to leave that spouse out of the filing if their debt is minimal or manageable. That way the non-filing spouse's credit can be preserved and if an emergency arises, the non-filing spouse may be able to obtain a loan. But what happens to a co-signed debt if spouses do not file together, or if the co-signed debt is with a family member or other individual who cannot file a joint bankruptcy case? It is simple, the non-bankruptcy filer is still liable for the debt. In a situation where the debt is joint but the co-debtor cannot be part of the same case, that co-debtor can always file their own bankruptcy case.
What Happens to Joint Assets in a Single Filing?
In the case of automobiles, the debtor may want to "reaffirm" the debt (essentially re-assuming the liability for the debt) if the desire is to keep the automobile. If the debtor "surrenders" the automobile, the co-debtor (non-filer) will be solely responsible for the remaining debt. When vehicles are surrendered in a bankruptcy case, they are then repossessed and ultimately auctioned at sale. The bank or lienholder will then pursue the co-debtor (non-filer) for the balance owed that wasn't recovered through the sale.
In the case of a real estate mortgage, the non-filer would still be personally liable under the mortgage note after a foreclosure for the balance of the loan less the amount realized from the foreclosure sale (the post-foreclosure deficiency judgment). The debtor would not be financially responsible for the mortgage or property tax payments, but there is still a lien (the mortgage) on the property and the house will still be foreclosed upon.
Conclusion
A joint bankruptcy petition enables both spouses to clear up their debts by either wiping them out (Chapter 7) or reorganizing (Chapter 13 or Chapter 11). The purpose of bankruptcy is to obtain a "fresh start." If only one spouse is relieved of debt, and the other spouse continues to be saddled with overwhelming debt, the fresh start intended by the bankruptcy filing may not be achieved. Our firm charges the same fees for a single or joint petition. Why leave your co-debtor spouse indebted after you emerge from your bankruptcy case discharged of all of your debts?
Retaining a competent bankruptcy attorney is crucial to ensure the issue of single vs. joint filings is closely examined. If you are not properly represented in your case the first time, you are sure to incur further fees to fix it down the road. If you are unsure of your rights, please give us a call for a free consultation. We have office locations in Wayne, Hoboken, Newark, and Hackensack.
Whether you need to completely eliminate your debt through Chapter 7 bankruptcy, or need to reorganize your credit payments through Chapter 13 or Chapter 11, we are well qualified as a full-service bankruptcy law firm for people in these and other New Jersey counties: Passaic County, Hudson County, Essex County, Bergen County, Morris County, and Sussex County. Call us today at 973-870-0434 or toll free 888-412-5091.
Share Article
Need Help? Contact Us Today!