Scura, Wigfield, Heyer, Stevens & Cammarota Blog
Should My Spouse and I File a Joint Bankruptcy Petition?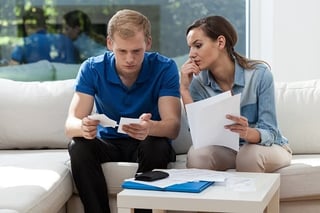 If you are married and mired in debt, bankruptcy can stop creditor actions and give you a fresh financial start. A common question is whether to file jointly or file only under one spouse's name. Depending on the facts of your case, it can make a difference for your finances and the impact on your credit.
The knowledgeable bankruptcy lawyers of Scura, Wigfield, Heyer & Stevens, LLP, can help you make the best decision for your unique circumstances. Our goal is to give you peace of mind and help you take full advantage of the opportunities of bankruptcy when your other options are exhausted.
With offices in Wayne, Hoboken and Elizabeth, we have represented couples and business owners throughout New Jersey. Contact us today for a free initial consultation.
Individual Vs. Joint Bankruptcy Filing for Married Couples in New Jersey
If your assets are commingled and you each have incurred substantial debts, it may be prudent to file a joint petition for bankruptcy. We handle Chapter 7 discharge and Chapter 13 repayment plans, as well as Chapter 11 bankruptcy for small businesses or high earners.
It may make sense for one spouse to file an individual petition for bankruptcy if:
Most of the debt was incurred in one spouse's name
Most of the assets are owned by one spouse
One spouse has inherited a substantial amount of money
One spouse needs to avoid bankruptcy for business reasons
By filing for bankruptcy in one spouse's name, the other spouse may be able to retain assets that would otherwise be forfeited. That spouse also avoids the negative impact of bankruptcy, such as a reduced credit score for purposes of obtaining loans. Lastly, if only one spouse files, it preserves the other spouse's option of filing bankruptcy in the future.
A Joint Bankruptcy Petition Can Be Simpler
A joint petition is simpler because the couple's incomes, assets and debts are combined. If a married person files individually, all of that must be separated out. The petition must be very carefully prepared to avoid mistakes that would draw scrutiny by the Bankruptcy Court or challenges by creditors. Our experienced attorneys can address these issues so that you can take advantage of an individual petition if it is in your financial interests to go that route.
Scura, Wigfield, Heyer & Stevens, LLP, handles bankruptcies in Passaic, Hudson, Sussex, Essex, Bergen & Morris counties of New Jersey. Call us today at 973-870-0434 or contact us online to arrange your free initial consultation.
We are a debt relief agency. We help people file for bankruptcy relief under the Bankruptcy Code.
Share Article
Need Help? Contact Us Today!