Scura, Wigfield, Heyer, Stevens & Cammarota Blog
Some Bankruptcy Myths Proven False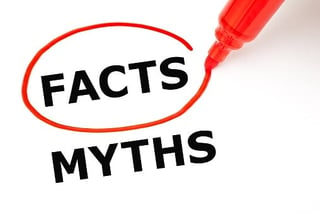 Most of our bankruptcy clients do not have a choice but to file bankruptcy because circumstances in their life have spiraled out of control. Some of our clients have lost a job, are receiving less pay, became seriously ill or hurt, divorced or just plain got in over their head with debt. Our clients are good people deserving of the protection of the bankruptcy code. Our bankruptcy attorneys are surprised about some of the myths that still exist out there concerning bankruptcy and especially the myths with respect to the new bankruptcy laws as enacted in 2005. Some of these myths are being put out there by the credit card industry to scare people away from bankruptcy. Here are some common myths that we have learned about from our clients in our daily practice representing debtors in bankruptcy.
Myth #1: You Cannot File Bankruptcy Because of the Changes in the New Laws
The biggest myth out there today is that you cannot file bankruptcy any longer because of the changes in the new laws. This is not true. The changes to the Bankruptcy Laws in 2005, know as BAPCA, did not prevent people from filing bankruptcy. It just changed some of the rules of bankruptcy. Any debtor is still allowed to file for personal bankruptcy. You just may have to file another Chapter in bankruptcy then you did before. In a study performed in our office the changes in the laws affected less than 5% of our existing clients. Thus, the impact of the new laws have not affected the bankruptcy landscape as much as anticipated.
Myth #2: The Whole World Will Find Out About My Bankruptcy
Another of the myths in bankruptcy is that the whole world finds out. This is not true. It is a matter of public record so it will be on your credit. For the most part, however, not many people beyond your creditors and the attorney actually learn of the bankruptcy.
Myth #3: Your Pay Will Be Garnished in the Bankruptcy
Another myth is that your pay will be garnished. This is not true. You pay is not garnished in bankruptcy and in fact if it is being garnished, the bankruptcy will stop that wage garnishment.
Myth #4: Your Credit Score Will Always Be Bad
A third myth is that your credit score will always be bad. This is not true. True, the bankruptcy will be reported on your credit for up to ten years. But, you can rebuild your credit long before that 10 years is up. We have had clients purchase a house and get a mortgage a year after discharge. Additionally, when the bankruptcy is completed and discharged, that is also recorded, thus wiping out your previous credit record.
Myth #5: You Can Only File Bankruptcy One Time
A big myth is that you can only file bankruptcy one time. This is false. You can file a chapter 7 every 8 years. You can also file chapter 13 multiple times depending on your situation. You can also file a chapter 13 four years after a chapter 7. Thus, you could file a chapter 7 and wipe out all of your debt. Then, four years later if you were having debt problems again, you could file a chapter 13 bankruptcy and discharge a large portion of your debt. There are many legal nuances to these rules, so you should always consult with an attorney in your state before making a decision as to file bankruptcy.
Myth #6: You Lose All Assets in a Bankruptcy
Another myth is that you lose everything when you file bankruptcy. Most of my clients retain all of their exempt assets in a bankruptcy. In a chapter 7, you can wipe out all credit card debt and other unsecured debt and start fresh. If you have assets that are worth more than your allowable exemptions, then you can file a chapter 13 or chapter 11 reorganizing plan to save those assets. Call one of our New Jersey or New York bankruptcy attorneys to discuss your exemptions and what you can keep.
Consult With Our Bankruptcy Attorneys Today
Filing for bankruptcy is a difficult and major decision. You should consult with our experienced bankruptcy attorneys and discuss your options so that you can make a fully informed and educated decision.
Share Article
Need Help? Contact Us Today!