Scura, Wigfield, Heyer, Stevens & Cammarota Blog
Surrendering NJ Real Property In Chapter 7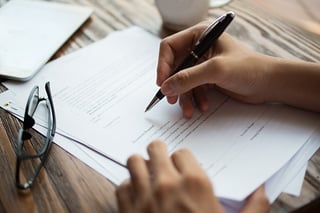 It's common that many clients surrender their real property in Chapter 7 cases, and assume that surrendering the property will alleviate any issues or obligations owed by them. Unfortunately, the term "surrender" does not automatically mean a debtor is free and clear of any responsibility concerning the real property. The act of surrendering collateral simply means that the debtor no longer intends to make the loan payments, or as stated by the First and Fourth Circuit courts "means not taking an overt act to prevent the secured creditor from foreclosing its interest in the secured property." In re Calzadilla, 534 B.R. 216, 218 (Bankr. S.D. Fla. 2015). However, receiving a bankruptcy discharge does eliminate the debtor's personal obligation to repay the note and mortgage.
When Does a Debtor Lose Ownership Interest?
The debtor still owns the real property until such time when they are divested of their ownership interest. This is generally accomplished by a short sale, foreclosure sale, or deed in lieu of foreclosure. The perception that a Chapter 7 Trustee will take control of the surrendered property is not always true. The Trustee's primary goal is to liquidate assets to generate funds to distribute to creditors. However, if the property has no equity, the Trustee will abandon his or her interest in the property. Likewise, discharging a debtor's personal obligation does not mean the bank is the new owner of the property.
It should be noted that a debtor cannot force the bank to accept a deed in lieu of foreclosure, and in many instances, they will refuse if there is a second mortgage on the property. Likewise, a debtor cannot force the bank to prosecute a foreclosure action. While bankruptcy is an effective solution from discharging personal liability on a mortgage, it is less effective when it comes to undoing incidents of property ownership.
Pros and Cons of Surrendering Real Property
There are some benefits if the debtor surrenders the property. This includes living in the property without payment while the foreclosure process is completed. Alternatively, the consequences are numerous. For example, as the property owner you may be liable for any injuries sustained on the property. As a result, it's important to maintain liability insurance. Secondly, if the property is part of a community association, you may be responsible for association dues and assessments. Third, you may be responsible for violations of municipal ordinances for failing to maintain the property. Finally, you may continue to receive property and school tax bills from the taxing authority. A debtor may forward such bills to the institution holding the mortgage.
If you are interested in surrendering real property to rid yourself of the monetary obligation, please call and speak with one of our experienced New Jersey bankruptcy attorneys for a free, no obligation consultation.
Whether you need to completely eliminate your debt through Chapter 7 bankruptcy, or need to reorganize your credit payments through Chapter 13 or Chapter 11, we are well qualified as a full-service bankruptcy law firm for people in these and other New Jersey counties: Passaic County, Hudson County, Essex County, Bergen County, Morris County, and Sussex County. Call us today at 973-870-0434 or toll free 888-412-5091.

NJ Attorney with extensive experience on Bankruptcy Law Real Property Law, Litigation, and Immigration Law. Dedicated Associate Attorney at Scura, Wigfield, Heyer, Stevens, & Cammarota LLP.
Share Article
Need Help? Contact Us Today!