Scura, Wigfield, Heyer, Stevens & Cammarota Blog
When is Compensation for Pain and Suffering Available for New Jersey Personal Injury?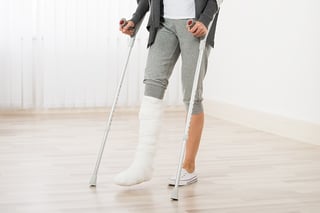 When it comes to car accidents, drivers, passengers and pedestrians in New Jersey do not plan on being involved in one. Because of this, many do not consider what steps they would take after an accident and how badly the incident could impact their life. While every accident is different and could affect victims at various degrees, it is important to be aware of available legal remedies following an automobile collision.
When Can You Sue for Pain and Suffering?
When can an injured party file a suit for pain and suffering? A car accident often results in serious injuries and various damages. When an individual is injured in a car crash, they can file a personal injury suit. Such an action could result in compensation being awarded for the various damages and losses the victim incurred as a result of the crash, but with regard to seeking damages for pain and suffering, there are several factors to consider.
Severity of Injury
First, the severity of the injury will be reviewed. This not only considers the injury itself but also the long-term effects it could have. Will the victim suffer any permanent or temporary disability? Or will they be in constant pain for an extended period of time following the accident?
Age of Victim
Next, the age of the victim is considered. An injury to a young victim will often present a different degree of pain and life impacts than an older victim. In addition, a younger victim may be more active and their quality of life could be severely constrained by a debilitating injury.
Degree of Suffering
Lastly, the degree of suffering is addressed. This means considering the amount of pain pronounced at the time of injury and whether that pain continues for a long period after the accident. Moreover, this pain must cause actual suffering. The injury simply bothering or annoying the victim is not enough to suffice.
Because there is no personal injury case if the individual is not injured, they certainly could not seek damages for pain and suffering if they did not endure pain and suffering as a result of the crash. Understanding the legal remedies available will help an accident victim seek the appropriate damages for the injuries and losses they endured in the accident.
Contact a New Jersey Personal Injury Attorney
If you have questions regarding a personal injury situation, contact us for a Free Personal Injury Consultation today. We have offices in Wayne, Hoboken, Hackensack & Newark, New Jersey and serve the following New Jersey counties for Personal Injury:
Passaic County
Hudson County
Essex County
Bergen County
Morris County
Sussex County
Source: Blogs.findlaw.com, "When Can You Sue for Pain and Suffering?"
Share Article
Need Help? Contact Us Today!