Scura, Wigfield, Heyer, Stevens & Cammarota Blog
Winter Slip and Fall Accidents in New Jersey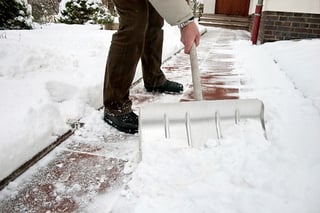 With New Jersey in the middle of its winter season, injuries due to ice and snow conditions can occur because of the irresponsible actions of property owners and landlords. Commercial and multi-complex residential buildings commonly fail to exercise reasonable care by promptly removing snow and ice following a snowstorm. A victim of a slip and fall accident may secure valuable compensation for their medical expenses, lost wages, pain and suffering, and ongoing disability.
The severity of injuries from slip and fall incidents varies from broken bones to traumatic brain injuries. According to the Centers of Disease Control and Prevention, one of five falls cause serious injuries to the elderly population and over 2.8 million people are treated in emergency departments for fall related injuries. The direct medical costs for adult fall injuries are approximately $31 billion dollars annually. Likewise, "based on 2014 published data by the Bureau of Labor Statistics, 261,930 private industry and state and local government workers missed one or more days of work due to injuries from workplace falls, and 798 workers died from such falls." With regards to occupational falls, workers' compensation and medical costs associated with such falls have been estimated at $70 billion dollars annually.
Employers and commercial building owners are also responsible for workplace conditions during winter weather. The owner of the property has an obligation to keep the premises reasonably safe following a winter storm. Generally, this means reasonably keeping sidewalks, parking lots, driveways, and common areas, free and clear from snow and ice. A commercial property owner will maintain a higher standard of care to ensure safety than a residential property owner.
In the event of an injury, collecting evidence is imperative to a successful slip and fall action on ice and snow. The burden of proof to demonstrate you fell on the premise is the plaintiff's obligation. If you have the ability to take pictures and videos following the accident on your camera phone, please do so, even if you ask a friend. The photos should include the icy and snowy areas, the condition of the property, and pictures from a distance to clearly illustrate the property that you were injured on. If anyone witnessed the accident, make sure to get their name and number, as they could be a witness to testify in your favor.
If you are seriously injured, make sure to seek immediate medical attention to document the injuries and fall accident. The doctor will likely note in your records the events leading to the injury. Furthermore, it's important to notify the property owner if you slip and fall on the premises of the property, and ensure that an incident report is drafted, if applicable. Finally, it's important to remember that you only have two-years from the date of the accident to file a personal injury action. As a result, it's important that you speak with an attorney at your earliest convenience.
Slip and fall lawsuits can be complex and it's important that you discuss the matter with an experienced New Jersey personal injury attorney. If you've been injured in a slip and fall accident, please call our firm for a free consultation and speak with one of our personal injury attorneys.
Whether you need to completely eliminate your debt through Chapter 7 bankruptcy, or need to reorganize your credit payments through Chapter 13 or Chapter 11, we are well qualified as a full-service bankruptcy law firm for people in these and other New Jersey counties: Passaic County, Hudson County, Essex County, Bergen County, Morris County, and Sussex County. Call us today at 973-870-0434 or toll free 888-412-5091.

NJ Attorney with extensive experience on Bankruptcy Law Real Property Law, Litigation, and Immigration Law. Dedicated Associate Attorney at Scura, Wigfield, Heyer, Stevens, & Cammarota LLP.
Share Article
Need Help? Contact Us Today!