Scura, Wigfield, Heyer, Stevens & Cammarota Blog
Can Secured Creditors Constitute an Official Committee of Unsecured Creditors?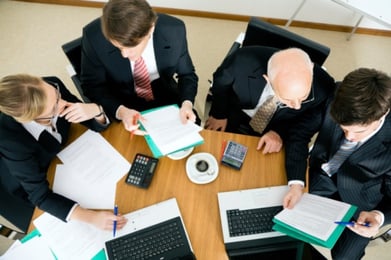 At first one would think this question is simply no. However, legal questions are rarely so easily answered. Lawyers are a crafty bunch.
Official unsecured creditor committees are provided for by 11 U.S.C. § 1102(a)(1). In general, the purpose of such committees is to represent the interests of unsecured creditors and to strive to maximize the dividend paid to that class of creditors. The concept is that a single unsecured creditor (who in most cases will be paid pennies on the dollar through the bankruptcy) cannot shoulder the expense of playing a significant role in a bankruptcy proceeding. Together, as a group of interested creditors, a committee can hire one attorney to look out for its collective interest. A committee one formed can then apply to have the bankruptcy estate pay for the committee's legal fees.
What if a group of judgment creditors wanted to get together to form a committee?
In New Jersey, as in many other states, a holder of a docketed judgment has a lien on all real property held by the judgment debtor in the state.[1] "To establish a lien against a judgment debtor's real property, a creditor need only enter a judgment in the records of the Superior Court; a levy and execution on real property owned by the judgment debtor are not required." In re Mariano, 339 B.R. 344, 347 (Bankr. D.N.J. 2006). So, if a judgement creditor holds a lien, thus making it secured, how could it be an unsecured creditor?
The answer may be found under Section 544 of the Bankruptcy Code. A trustee, or a Debtor-in-Possession in a chapter 11 case, could potentially avoid a judgment creditor's unperfected lien under Section 544 of the Bankruptcy Code. Courts in the Third Circuit have consistently held that, under section 544(a) of the Bankruptcy Code, the trustee[2] is a hypothetical judicial lien creditor who has levied on the debtor's real property.[3] Therefore, a judgment creditor who fails to levy or levy correctly before the petition date risks having his or her lien avoided by the trustee and being deemed unsecured.[4] This happens frequently in cases in which the judgment impairs an exemption, or there is not sufficient equity in real property to secure the judgment. In that event, the judgment could become entirely void or partially void. Thus, a judgment creditor could hold both a secured claim and an unsecured claim at the same time.
The question gets even murkier when the nature of the lien is not quite as clear
In Seaescape Cruises the United States Trustee was aware that certain creditors on the committee held potential maritime liens. Notwithstanding this disclosure, the United States Trustee concluded "that these diverse interests were representative of the types of claims existing in the case and that their appointment to the [c]ommittee was not inconsistent with the purpose of Section 1102 of the Bankruptcy Code." In re Seaescape Cruises, Ltd., 131 B.R. at 242. The Seaescape Cruises court concluded that "the claims of maritime lien holders are not so readily classified as secured claims, especially in the context of a bankruptcy case…where the vessels have not been arrested…[w]hether any of the members of the [c]ommittee who claim potential maritime liens are actually secured creditors cannot be determined with any degree of certainty…." Id. at 242-43.
There's also the potential for an additional committee to be formed even if a group of creditors are not unsecured creditors. Pursuant to Section 1102(a)(2) of the Bankruptcy Code, "the court may order the appointment of additional committees of creditors…if necessary to assure adequate representation of creditors or of equity security holders." 11 U.S.C. §1102(a)(2). The court's appointment of an additional committee is considered extraordinary relief however and should be the rare exception.[5]
If you're ready to talk with a New Jersey Bankruptcy Lawyer, schedule a free consultation below. Whatever your needs are, we believe you deserve representation with compassion.
[1] See New Brunswick Sav. Bank v. Markouski, 123 N.J. 402, 412 (N.J.,1991); see also N.J.S.A. 2A:16–1; N.J.S.A. 2A:17–17.
[2] Section 1107(a) of the Bankruptcy Code provides, in relevant part, that a debtor-in-possession shall have all the rights and powers of a chapter 11 trustee. 11 U.S.C. § 1107(a). Thus, a chapter 11 debtor-in-possession may exercise avoidance powers granted to a trustee under section 544(a) of the Bankruptcy Code.
[3] In re Blease, 605 F.2d at 100; Kellman v. Palese (In re Italiano), 66 B.R. 468, 479 (Bankr. D.N.J. 1986) ("The date of filing of the bankruptcy petition establishes the rights of the trustee as a hypothetical judicial lien creditor with a superior lien over any judgment creditor who has not properly levied.").
[4] See In re Italiano, 66 B.R. at 480 (declaring that lien of judgment creditor who failed to levy properly was void and that the judgment creditor was unsecured); see generally In re Inv'rs & Lenders, Ltd., 156 B.R. 145, 148 (Bankr. D.N.J. 1993) (holding that creditor was unsecured because his security interest was unperfected and could be avoided under section 544(a) of the Bankruptcy Code).
[5] In re Spansion, Inc., 421 B.R. 151, 156 (Bankr. D.Del. 2009)

I have a passion for what I do. There are few things I enjoy more than helping good people and viable businesses find solutions to overwhelming debt.
Share Article
Need Help? Contact Us Today!