Scura, Wigfield, Heyer, Stevens & Cammarota Blog
Helpful Bankruptcy Terms You Should Know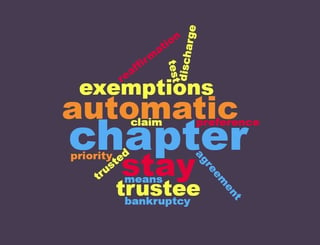 Filing for bankruptcy is not a process that should be taken lightly. And to make sure you fully understand what you'll be getting into, it is important that you take the time to go over some of the most common terms associated with both Chapter 7 and Chapter 13 bankruptcy. While the help of an experienced New Jersey bankruptcy attorney will certainly make some of the more confusing areas of bankruptcy law a bit easier to grasp, educating yourself is always in your best interest.
Common Bankruptcy Terms You Should Know
If you feel like bankruptcy may be your best opportunity to get out of debt, these key terms will help you to move along in the process and help you to decide which program is best for your needs. At Scura, our dedicated bankruptcy lawyers want to do everything possible to make bankruptcy easier for our clients. With our quick list of important terms, you will always have a quick reference available to you and feel more confident when filing.
Automatic Stay
An automatic stay is one of the initial draws for many people who are having difficulty managing their debt. The automatic stay is a court order that is put in place to prevent creditors from harassing debtors over money owed or other actions like repossessions, foreclosures, evictions and garnishments until the bankruptcy concludes. It is created the moment that your bankruptcy is filed, even if for some reason it is eventually declined.
Chapter 7
This is the most common type of bankruptcy filed by individuals with unpayable debt. Chapter 7 may sometimes be referred to as liquidation bankruptcy because this type of filing is designed to eliminate all debts entirely. With this option, you also have the possibility to exchange any collateral property that you may possess including your automobile or home. Businesses may also file Chapter 7 if they are unable to be run profitably, there is no chance of reorganization and a redistribution of assets to creditors is possible.
Chapter 7 Exceptions
There are certain debts under Chapter 7 that cannot be discharged, including:
Debts that were falsely represented, debts that arose out of false pretenses, or in the event of actual fraud or false financial statements


Student loans


Debts associated with certain taxes


Restitution orders


Debts that are associated with luxury goods or cash advances


Debts related to alimony or child support and any other spousal obligations following a separation or divorce.


Any debts that a debtor has failed to list in the bankruptcy schedules


Debts associated with fraud or defalcation, larceny or embezzlement


Debts related to any willful or malicious injury
Chapter 13
Chapter 13 bankruptcy is suitable for those with an overwhelming but still manageable amount of debt. The idea behind Chapter 13 is to reduce but not fully eliminate all of your debt. This type of bankruptcy also works to restructure your remaining debt into a payback plan with terms ranging from 3 to 5 years. With Chapter 13, debtors can typically hold on to most or even all of their personal property. Corporations and partnerships may not file Chapter 13 bankruptcy.
Chapter 13 Exceptions
While Chapter 7 has many different exceptions, there are only a few exceptions available under Chapter 13, including:
Debts that did not get listed in the bankruptcy schedules


Debts related to child support, alimony or spousal support


Student loans


Debts associated with driving under the influence of drugs or alcohol


Any debts related to criminal fines or restitution
Discharge
Typically, discharge means that your obligations have been completely erased. This process protects debtors from any personal liability for discharged debts but is only available for certain debts and to certain debtors. Individuals filing Chapter 7 are not eligible to receive a discharge. Additionally, a creditor or trustee can object to a debtor's discharge if it is found that the debtor has committed fraud.
Exemptions
Every state has a set of items or assets that debtors can consider as an exemption or something that cannot be collected by creditors. This list of exemptions cannot be touched by creditors no matter how much you owe. For example, most debtors choose to make their home an exempt item on their property list. Other common exemptions include household goods and furnishings, wages, tools used for work and the cash value of any insurance policies.
Means Test
Before you can begin the Chapter 7 process, you must pass the means test to determine your eligibility. This test works by comparing your average monthly income and the total debt of the average household in the state of New Jersey. If it is found that you make more than the average household or you have a comparatively small amount of total debt, it is possible to fail the test.
Preference
A preference is any payment that is received from a debtor to one of their creditors within the 90 days before a bankruptcy filing. A bankruptcy trustee can recover this payment under a few different scenarios, including:
If you made the payment within 90 days of filing for bankruptcy


If the payment was made to or for the sake of a creditor on any pre-existing debt


If you were actually insolvent when you made the payment
Priority Claim
This refers to any debts that will be paid first if funds are available to pay back creditors. Some of the debts that may be eligible for priority include administrative costs associated with the bankruptcy, child and spousal support, back taxes or any judgments that stem from a DUI accident.
Reaffirmation Agreement
In the event that a debtor wishes to continue repayment on a debt after filing bankruptcy, they may request a reaffirmation agreement. For example, you may decide that you'd like to keep on paying your car loan instead of losing the vehicle through bankruptcy. If that is the case, your attorney can help you to engage in a reaffirmation agreement.
Trustee
A trustee is a court-appointed official who is tasked with administering the debtors bankruptcy. Their duties will include seizing any necessary property to pay back the debtor's creditors and distributing payments in a Chapter 13 bankruptcy filing.
Schedule a Consultation Today
If you have considered filing for bankruptcy in New Jersey, the experienced and dedicated team of attorneys at Scura can help guide you through the process. Want more information on how we can help? Call 1-888-412-5061 or visit our team online today to schedule a free bankruptcy consultation today.
Whether you need to completely eliminate your debt through Chapter 7 bankruptcy, or need to reorganize your credit payments through Chapter 13 or Chapter 11, we are well qualified as a full-service bankruptcy law firm for people in these and other New Jersey counties: Passaic County, Hudson County, Essex County, Bergen County, Morris County, and Sussex County. Call us today at 973-870-0434 or toll free 888-412-5091.
Share Article
Need Help? Contact Us Today!