Scura, Wigfield, Heyer, Stevens & Cammarota Blog
Injunctive Relief In Foreclosure Actions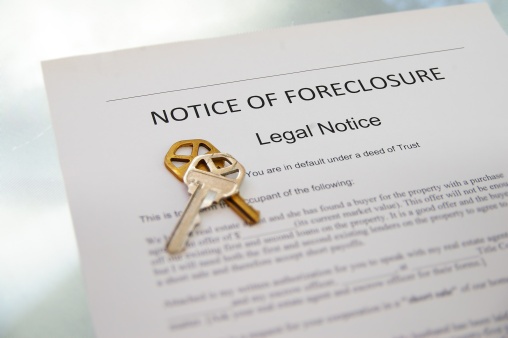 Even before a foreclosure judgment is entered, a mortgage holder may be entitled to injunctive relief restraining a homeowner from collecting or receiving rents if it can show that it will undoubtedly suffer immediate, irreparable harm in the event the restraints are not granted. It may also be able to obtain a court order compelling the tenants of the mortgaged premises to pay rents to a receiver.
New Jersey Court Rule 4:52-2 allows a plaintiff during the pendency of an action to seek an interlocutory injunction pending the disposition of the action. In considering applications for injunctive relief, the familiar four-part test prescribed by the New Jersey Supreme Court in Crowe v. DeGioia, 90 N.J. 126 (1982) requires that the following standards be met:
[A] preliminary injunction should not issue
except when necessary to prevent irreparable
harm.
[T]emporary relief should be withheld when the
legal right underlying plaintiff's claim is
unsettled.
[A] preliminary injunction should not issue
where all material facts are controverted...
Thus, to prevail on an application for temporary
relief, a plaintiff must make a preliminary
showing of a reasonable probability of ultimate
success on the merits...That requirement is
tempered by the principle that mere doubt as
to the validity of the claim is not an adequate
basis for refusing to maintain the status quo.
[T]he relative hardship to the parties in
granting or denying relief must be weighed.
Id. at 132-34. See also Coskey's TV & Radio Sales v. Foti, 253 N.J. Super. 626, 639-640 (App. Div. 1992.)
What is Irreparable Harm?
Generally speaking, "harm is...considered irreparable in equity if it cannot be redressed adequately by monetary damages." Crowe, 90 N.J. at 132-133. Notwithstanding this general rule, it has been held that the future inability or lack of a legal obligation on the part of a debtor to satisfy a money judgment may constitute irreparable harm. See Hoxworth v. Blinder, Robins & Co., 903 F.2d 186, 206 (3d Cir. 1990); Local 397 v. Midwest Fasteners, Inc., 763 F. Supp. 78, 84 (D.N.J. 1990); Warwick v. Hammell, 32 N.J.Eq. 427 (Ch. 1880) (receiver appointed where mortgagor was insolvent); Brasted v. Sutton, 30 N.J. Eq. 462, 463 (Ch. 1879); Mutual Life v. Norris, 3 N.J.L.J. 78 (Ch. 1879); Chetwood v. Coffin, 30 N.J. Eq. 450, 451 (Ch. 1879) (receiver appointed where mortgagee had no personal security for payment of the mortgage debt); Wood v. Eckert, 3 N.J.L.J. 53, 54 (Ch. 1879); Mahon v. Crothers, 28 N.J. Eq. 567, 568 (Ch. 1877) (receiver appointed where mortgagee had no personal security for payment of the mortgage debt); Cortleyeu v. Hathaway, 11 N.J. Eq. 39, 44 (Ch. 1855).
Demonstrating irreparable harm is always the most difficult element to show for a party seeking injunctive relief. A mortgage holder may argue that the homeowner's ability to satisfy the inevitable judgment in is at best doubtful when a mortgage loan has been years in default and the value of the property is likely insufficient to satisfy the indebtedness. This argument may be persuasive if in addition to not making payments the homeowner is either continuing to collect monthly rents, or is allowing tenants to remain in the premises rent free. A rent receiver may be the only assurance of recouping the outstanding balance owed on the mortgage loan.
The Legal Right to Foreclose
Demonstrating that the law is well-settled could not be easier in the case of foreclosure law. Despite all the claims floating around the internet, and what your neighbors may tell you, the defenses to a foreclosure action are few. Essentially if the homeowner borrowed money and didn't make payments, the mortgage holder has a right to foreclosure. Further, unless there is a dispute regarding whether all payments have been made or if the homeowner signed the loan, the material facts will not be disputed and the mortgage holder will be able to demonstrate that it will ultimately succeed on the merits.
Balancing of the Equities
Lastly, a mortgage holder will argue that the balance of hardship weighs in its favor because not only is its security for the mortgage loan impaired, it is being deprived its right under the mortgage to collect rents to satisfy the outstanding indebtedness. The homeowner, on the other hand, will be in no worse position if the requested restraints are imposed because it would otherwise have to pay the rents to the mortgage holder to satisfy the outstanding loan and related taxes and charges. The tenants, meanwhile, will not face any hardship as they are required to pay rents regardless of whether they pay such rents to the borrower or the Bank.
The law firm of Scura, Wigfield, Heyer, Stevens & Cammarota, LLP defends homeowners against predatory lenders and can assist with restraining creditors from exercising their collection rights. Schedule a free consultation in any of our offices located in Hackensack, Hoboken, Newark, and Wayne, New Jersey.

I have a passion for what I do. There are few things I enjoy more than helping good people and viable businesses find solutions to overwhelming debt.
Share Article
Need Help? Contact Us Today!