Scura, Wigfield, Heyer, Stevens & Cammarota Blog
Enforcing Interlocutory Orders in NJ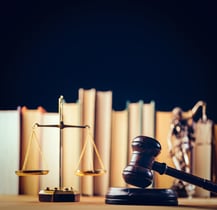 "Lawsuits are war. It's as simple as that and they all begin the same way; a declaration of war: the complaint." -John Grisham, A Civil Action. After the complaint, the war is waged through discovery until final judgment or settlement. Litigation attorneys are constantly strategizing, planning and calculating how to gain the competitive advantage. We are trained to wage these wars against our adversaries in a civil, professional manner. Sometimes civility and professionalism break down in the process. Regardless, during the lawsuit, one party may feel that the other party is not fighting fair by disobeying court orders. It is incumbent upon the aggrieved party to level the battlefield by forcing compliance with the court's orders. This is especially true in the discovery context. This article details the usage of a Motion to Enforce Litigants Rights as a tool to keep you adversary honest.
I. Interlocutory Orders.
An interlocutory order is an order that relates to some intermediate matter in the case; any order other than a final order. Black's Law Dictionary. Interlocutory orders can be issued on a plethora of matters including discovery disputes, deposition schedules, extensions of deadlines, striking of counts or defenses, evidence admissibility etc. As any seasoned litigator knows, orders are not always complied with. The question becomes, how do we force compliance with an interlocutory order when the adversary is willfully non-complaint? Enter the Motion to Enforce Litigants Rights as the mechanism to accomplish this end.
II. R. 1:10-3. Relief to Litigant
R. 1:10-3 governs the ability of litigants to enforce their rights and states, in relevant part:
Notwithstanding that an act or omission may also constitute a contempt of court, a litigant in any action may seek relief by application in the action. A judge shall not be disqualified because he or she signed the order sought to be enforced…The court in its discretion may make an allowance for counsel fees to be paid by any party to the action to a party accorded relief under this rule.
"[B]efore relief can be afforded, the court must be satisfied that the party had the capacity to comply with the order and was willfully contumacious." Pressler & Verniero, Current N.J. Court Rules, comment 4.3 on R. 1:10–3 (2013). Thus, to find a violation of litigant's rights, the court must be satisfied that the offending party's actions were willful and unjustified. See P.T. v. M.S., 325 N.J.Super. 193 (App.Div.1999) (holding it was in error to find ex-wife in contempt without finding that her failure to comply was willful and unjustified). Fazio v. Apisa, No. A-2686-11T1, 2012 WL 6632788, at *6 (N.J. Super. Ct. App. Div. Dec. 21, 2012). Generally, the scope of relief in a motion in aid of litigant's rights is limited to remediation of the violation of a court order. Abbottt ex. Rel. Abbot v. Burke, 206 N.J. 332, 371 (2011).
However, the court has discretion to also award sanctions against the offending party. New Jersey has a strong policy disfavoring the shifting of attorney fees, which is embodied in the so-called American Rule. R. 4:42-9. The allowance of counsel fees is a discretionary action required to be based on factual findings and is reviewable under the standard of a clear abuse of discretion. Id. But discretion can be exercised to grant fees on motions to enforce litigants' rights. Rodano v. Kousmine, No. A-3952-15T3, 2017 WL 4341824, at *3 (N.J. Super. Ct. App. Div. Oct. 2, 2017).
It is important to note that Motions to Enforce Litigants Rights for violations of discovery orders will not be listed for disposition unless accompanied by a certification stating that the attorney for the moving party has made a good faith effort to confer with opposing counsel to resolve the issues raised by the motion by agreement or consent and that such effort was unsuccessful. R. 1:6-2(c).
III. In Practice.
Every litigator has had a case where they believe their adversary is in willful non-compliance with an interlocutory order. "Non-compliance" may be a matter of interpretation i.e. the offending party partially complied with the interlocutory order or complied with the order according to their independent interpretation of its requirements. In theses instances, you should consult with opposing counsel prior to the filing of a Motion to Enforce Litigants Rights because matters of interpretation may not rise to the level of "willfully contumacious." A careful evaluation of the non-compliance must be conducted to determine if it is egregious enough to support the granting of a Motion to Enforce Litigants Rights based upon the standard above.
On the other hand, where a party has blatantly not complied or refuses to comply, the Motion to Enforce Litigants Rights is a most useful weapon. In most cases, willful non-compliance is a strategic decision to maintain the offending party's perceived advantage. This is all the more reason to make the Motion to Enforce Litigants Rights. The benefits are twofold: 1) we regain an advantage in the litigation; and 2) we bring the willful non-compliance to the judge's attention.
If executed successfully, the offending party will be forced into compliance while a grant of attorney's fees ensures compensation for the costs of enforcement. No potential advantage should be minimized or marginalized as we are often unaware of the full value of an advantage prior to trial or judgment. Furthermore, failure to seek enforcement of a violated interlocutory order may adversely affect the outcome and rights to appeal.
IV. Conclusion.
Lawsuits are war where every possible advantage must be obtained and maintained until judgment or settlement. Litigators expend time and effort to obtain these advantages through various motions during the case. These motions result in advantageous orders forcing the opposition to take or refrain from taking certain actions. The advantages of these interlocutory orders must not be ceded to willful non-compliance.
The experienced attorneys at Scura, Wigfield, Heyer, Stevens & Cammarota LLP understand the "war" that is litigation. We pride ourselves on establishing and maintaining the advantage to achieve the best possible result for their clients. If you were injured at the hands of another, whether financially or physically, contact our offices to schedule a free litigation consultation.
Share Article
Need Help? Contact Us Today!