Scura, Wigfield, Heyer, Stevens & Cammarota Blog
The Appointment of a Rent Receiver after Mortgage Loan Default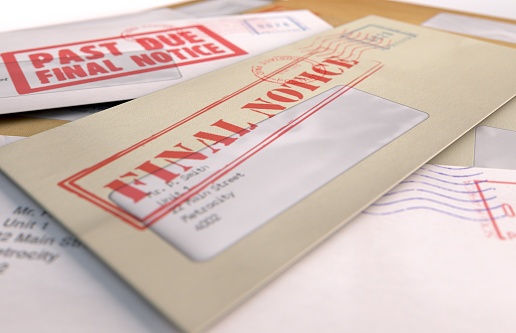 A mortgage holder is entitled to an order appointing a rent receiver to collect rents (as that term is defined in the loan documents) and maintain the mortgaged premises in the event of a borrower's default. Failure to make obligatory monthly installments of principal and interest is a defined as a default under most mortgage notes and mortgages.
Often, in addition to alleging a default, a mortgage holder will claim that the collateral securing borrower's indebtedness has become imperiled and is no longer adequate security for repayment of such debt.
Why Would a Mortgage Holder Seek the Appointment of a Rent Receiver?
The purpose for having a rent receiver appointed is "to protect a mortgagee's interests by imposing a court-supervised, disinterested person to collect rents and pay expenses pending the ultimate disposition of the mortgaged premises." Kaufman v. 53 Duncan Investors, L.P., 368 N.J.Super. 501, 506 (App.Div. 2004). A contractual provision providing for the appointment of a rent receiver, although not entitling a mortgagee to a receiver as a matter of right, is given considerable weight in a court's determination of whether a rent receiver should be appointed. See Barclays Bank P.L.C. v. Davidson Avenue Assocs., Ltd., 274 N.J.Super. 519, 523-24 (App.Div. 1994) (emphasis added); see also Kaufman v. 53 Duncan Investors, L.P., 368 N.J. Super. 501, 507 (App.Div. 2004).
Most mortgage instruments grant a mortgage holder a contractual right to have a rent receiver appointed, ex parte, based on the express terms of the loan documents. A typical "boiler plate" mortgage provision for the appointment of a receiver is as follows:
Upon the occurrence of any Event of Default . . . [Bank] may: (a) Have a receiver appointed as a matter of right on an ex parte basis without notice to Borrower and without regard to the sufficiency of the Property or any other security for the indebtedness secured hereby and, without the necessity of posting any bond or other security. Such receiver shall take possession and control of the Property and shall collect and receive the Rents. If [Bank] elects to seek the appointment of a receiver for the Property, Borrower, by its execution of this Security Instrument, expressly consents to the appointment of such receiver, including the appointment of a receiver ex parte if permitted by applicable law.
A court will also weigh equitable considerations in determining whether a receiver should be appointed. Kaufman v. 53 Duncan Investors, L.P., 368 N.J. Super. at 507. Prominent among such considerations is whether a mortgagee's security for the outstanding indebtedness is imperiled or inadequate to satisfy the mortgage debt. Barclays Bank, P.L.C. v. Davidson Avenue Associates, LTD., 274 N.J.Super. 519, 524 (App. Div. 1994) ("A receiver should be appointed when it appears necessary to protect the mortgagee's security.").
A mortgagee will typically claim that the mortgaged premises has become imperiled inasmuch as the borrower's failure to make obligatory monthly payments forced it to advance money to pay outstanding real estate taxes or municipal charges to avoid the imposition of a lien against the mortgaged premises. In addition, mortgagee may be forced to advance money to pay for insurance coverage or make necessary repairs.
If the mortgage premises has no equity, the mortgaged premises will no longer provide adequate security for the repayment of loan. In determining if the property has equity, the mortgage holder will obtain a Broker's Opinion of Value ("BOV"). If the "Suggested Asking Price" of the mortgaged premises, less the costs and expenses inherent in any foreclosure and sale of real property, including, sheriff and brokers' commissions, is less than the value established by the BOV, the property will be assumed to lack any equity. In such an instance, a sale of the mortgaged premises following foreclosure will undoubtedly fail to yield sufficient proceeds to satisfy borrower's indebtedness. Considering the lack of equity in the mortgage premises, the collection of rents for the mortgagee's benefit is paramount to reducing a borrower's indebtedness and mitigating the mortgagee's losses.
Misappropriation of Rents: A Borrower's Collection of Rents, but Failure to Make Payments
Equity also militates in favor of appointing a rent receiver when a borrower continues to collect monthly rents from the tenants of the mortgaged premises, despite having failed to make any payments to the mortgage holder. Shuster v. Ventnor Gardens, Inc., 103 N.J.Eq. 93, 95 (E. & A. 1928) (receiver appointed where there was evidence of fraudulent misappropriation of monies); Cortleyeu v. Hathaway, 11 N.J. Eq. 39, 44 (Ch. 1855) (holding that the appointment of a rent receiver is appropriate where there is any act on the part of the mortgagor reflecting "fraud on his part or makes him chargeable with bad faith in misappropriating the rents and profits for other purposes than that of keeping down the interest on the encumbrances").
Although a mortgagee is often able to obtain a rent receiver, it is a fight the mortgagee rarely chooses to have. The law firm of Scura, Wigfield, Heyer, Stevens & Cammarota, LLP has been on both sides of the fight. If you have questions about your rights or defenses to a receivership action, call us for a free consultation.

I have a passion for what I do. There are few things I enjoy more than helping good people and viable businesses find solutions to overwhelming debt.
Share Article
Need Help? Contact Us Today!