Scura, Wigfield, Heyer, Stevens & Cammarota Blog
The Effect of Bankruptcy on Your Residential Lease in NJ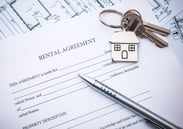 Many people who are contemplating filing for bankruptcy in New Jersey are concerned about the effect that it will have on their residential lease if their landlord learns about the proceeding. This blog will explore what impact, if any, a bankruptcy will have on your residential lease.
Your Landlord Will Be Notice to the Proceedings As Their Rights May Be Affected
If you have an ongoing lease obligation, regardless of whether you are in arrears on the lease, your landlord will receive notice of the bankruptcy proceeding as an interested party. The landlord is an interested party for various reasons including that you can choose to assume the lease, reject the lease and the landlord would need relief from the automatic stay to evict you. If during/after a bankruptcy proceeding you desire to retain your residential lease and continue living in your residence, then you should remain current with your rent.
However, if you want to discharge your obligations under the lease, then you can do that through the bankruptcy proceeding. People often chose this option if they feel that their rent is too high or if they are in arrears under their lease obligations.
Retaining Your Lease if You Are in Arrears on the Lease
A chapter 7 bankruptcy will not help you to cure arrears on your residential lease, but a chapter 13 bankruptcy can be the answer. As long as the lease has not been terminated under state law prior to the bankruptcy filing, you have the ability to cure the arrears on your leasehold obligations over the course of your chapter 13 plan, while maintaining your ongoing lease payments. It is very important to be cognizant of any eviction proceedings and what stage they are in if it is your desire to cure your lease arrearages through a bankruptcy proceeding. If the landlord has already obtained a judgment for possession, then it will complicate your ability to utilize the automatic stay to prevent the landlord from continuing with the eviction.
While a residential tenant who has a judgment for possession entered against him or her for a monetary default does have some limited options, the road to retaining your lease becomes significantly more difficult. As long as you are making your monthly payments, including the cure amount, to the chapter 13 trustee and your regular monthly rent payments to the landlord, then the landlord will not be permitted to obtain relief from the automatic stay to continue with the eviction proceeding.
If you are considering filing for bankruptcy, contact an experienced New Jersey bankruptcy attorney to guide you through your options and present you with the potential pitfalls. For questions regarding a potential bankruptcy, call the New Jersey law firm of Scura, Wigfield, Heyer, Stevens & Cammarota, LLP for a free consultation.

Prior to joining Scura, Wigfield, Heyer, Stevens & Cammarota, LLP, David Sklar graduated from Rutgers University-Newark School of Law with a J.D., Cum Laude. Mr. Sklar was the recipient of a Pro Bono Award and was honored by the New Jersey Bar Association for his commitment to the Street Law Program by being awarded the Street Law Prize.
Share Article
Need Help? Contact Us Today!