Scura, Wigfield, Heyer, Stevens & Cammarota Blog
What to Do If You've Been Involved in a Car Accident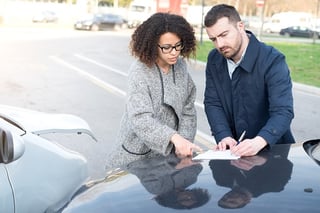 Car accidents are stressful, and they can result in expensive damages and painful physical injuries. Thankfully, the vast majority of car accidents do not result in life-threatening injuries. Nonetheless, even a minor fender-bender can shake you up and cause long-term physical and emotional problems.
Knowing what to do right after an accident can cut down on physical and mental side effects and increase your chances of obtaining compensation to help you deal with property damage, medical bills, and other costly consequences of being involved in an accident. If you have been in a car accident in New Jersey, you should take the following steps after the collision.
Stay on the Scene
You should never leave the scene of an accident, even if the collision was very minor. New Jersey law requires motorists to stop their vehicles and move to the side of the road if they have been involved in a crash. You should avoid disturbing the flow of traffic as much as possible.
Contact a tow truck immediately to help if your vehicle is too damaged to move. Having your vehicle in the line of traffic causes additional risk of impact with other cars. Of course, if you are too injured to drive the vehicle, stop everything and wait for emergency services to help.
Get Medical Attention
Your health and safety is the most important thing you should consider after an accident. If you feel like you are alright, check on others involved in the crash. Call for medical help if necessary. If you are unsure whether medical attention is required, err on the side of caution and call for help.
Any delay in medical treatment can affect your health and your legal case. You may not realize just how injured you are after an accident. Having a professional look you over after a crash will help you deal with hard-to-spot injuries, such as internal bleeding. It will also help you develop causation for your injuries as well. Unfortunately, some insurance companies will try to argue that your injuries are not as severe as you claim if you do not seek medical help immediately.
Call the Police
You should call the police in every accident, no matter how minor. It may be tempting just to exchange information with the other driver and be on your way, but it is a good idea to involve law enforcement for several reasons. First, having a police report regarding the accident provides an unbiased account of the facts of the situation. Second, if the other driver is issued a citation, then that can help your case as well.
You are required to report a car accident in New Jersey if the crash meets specific criteria:
The collision resulted in property damage over $500 or
The accident caused an injury or death to any person
You are required by law to report the accident to the local police department, the nearest office of the county police, or the New Jersey State Police if either of these factors applies to your situation. It can be difficult to determine when you must report; it is better to report if you are unsure.
You are required by law to report the crash by the "quickest means of communication." You can report the incident after the fact, but you can also fulfill this obligation by simply calling the police to the scene. You are also required to report the accident within ten days of its occurrence on a specific form if you do not call the police.
Failing to report an accident can result in the imposition of a fine between $30 and $100. You can also risk suspension of your driver's license and car registration as well.
Exchange Information with the Other Driver
While the police report will contain most of the vital information you need from the other driver, it is also a good idea to gather your own information as well. Be sure to obtain:
The driver's name and contact information
Insurance information
Driver's license number and license plate number
While you should take the time to get this information, there is no need to speak with the other driver beyond this. Talking with the other driver too much can lead to accidentally admitting something that you do not mean or saying something you should not.
Never admit fault to the other driver or make promises about their medical care or property damage. Instead, allow your insurance company and attorney to deal with these issues after the fact.
If the other driver becomes upset or threatening, it is best just to walk away and wait for the police to arrive in your vehicle. It is crucial that you remain calm and think before you speak or react to the other driver's rude or inappropriate behavior.
Gather Evidence at the Scene
While your description of the accident will likely be the most important evidence in your case, gathering additional evidence can also help your claim. For example, you should take photos of your vehicle and the location of the accident. Take pictures of the other driver's car as well. If there are skid marks or debris, take photos of that as well. It is better to err on having too many pictures than not enough.
You may also want to determine if there were any witnesses nearby that saw or heard the accident. You can discuss what they saw with them, but it is even more important that you get their name and contact information so you can talk to them at a later time as well.
Take Notes about Your Treatment and Memories of the Accident
Personal injury cases can take years. Your memory may fade by the time you must present your case to a judge or jury. It is a good idea to keep notes of what you remember from the accident. For example, you may want notes about the following information:
Where were you going when the accident happened?
What time of day was it?
How fast were you going? How fast do you think the other driver was going?
What do you remember about the nearby traffic signals or signs? (Did you have a green light? Did they?)
What was the weather like that day?
What was the traffic like at the time of the accident?
Where was the sun positioned at the time?
Having this information will help you remember the particulars of the accident, and it will help you convey these details to your attorney as well.
You should also keep notes about your follow up treatment after the accident too. Record how your injuries have affected your daily life and how your treatment has made you feel. Your medical records will provide your doctor's take on the situation, but only you can explain how an injury has affected you personally.
Call a Personal Injury Attorney
You are far more likely to obtain compensation for your injuries after an accident if you involve a personal injury attorney. He or she can help you present your case in the best light possible to an insurance company, judge, or jury. Call Scura, Wigfield, Heyer, Stevens & Cammarota, LLP to schedule your case evaluation today.
Share Article
Need Help? Contact Us Today!