Scura, Wigfield, Heyer, Stevens & Cammarota Blog
How to Know When You Need to Hire a New Jersey Car Accident Lawyer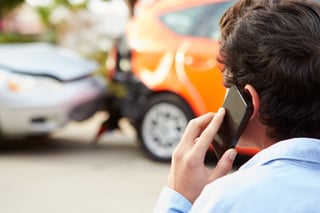 If you or a loved one has been involved in a car accident, enlisting the help of an experienced New Jersey personal injury attorney is in your best interest. A knowledgeable and skilled car accident lawyer will do everything possible to ensure that you are awarded the damages you deserve following a motor vehicle accident. In addition to navigating the legal process of filing a personal injury claim, the team at Scura will help to complete important paperwork, negotiate with insurance companies and protect your legal rights to help you win the settlement you deserve. But knowing exactly when it's time to hire a car accident lawyer can mean the difference between losing out on monetary damages that you are entitled to and feeling comfortable in a proper settlement.
When Should You Hire a New Jersey Auto Accident Attorney?
In the year 2016 alone, more than 4.6 million people were seriously injured in car accidents across the US. Most personal injury claims filed in the US are the result of an accident that involves a car, truck or any other type of motor vehicle. While many car accidents only result in minor vehicle damage and are easily resolved through insurance companies, others leave both parties suffering from extensive injuries. If you are involved in a car accident that results in any type of physical injury, a fatality or any other significant damages –you may be entitled to damages and will benefit from hiring a New Jersey car accident lawyer.
With an experienced car accident lawyer by your side, you have a greater chance of receiving compensation to help cover any losses you have incurred as a direct result of the accident. These losses may include medical expenses, lost wages, car repairs, pain and suffering and more. Typically, it is best to hire a personal injury attorney sooner rather than later on in the claims process. The earlier you enlist the help of experienced counsel, the better chances you'll have of avoiding any costly mistakes.
While personal injury laws are put in place to protect accident victims, navigating the legal process can be confusing and stressful. After an auto accident, the last thing you need to be worried about is when to file paperwork or arguing with insurance companies. If you have medical bills hanging over your head and are out of work due to your injuries, it is in your best interest to hire an attorney as soon as possible following your accident. Generally speaking, it is recommended that you contact a personal injury lawyer within 1 to 2 weeks following the accident.
What Should You Look for in an Auto Accident Lawyer?
Most auto accident lawyers should be able to cover a wide range of issues, including
Personal Injury Cases
Wrongful Death
Property Destruction
Liability Determinations
And More
When choosing the right New Jersey car accident lawyer to handle your claim, it is important to pay close attention to their experience and skill level, commitment to fighting tough cases, fee structure and of course, their location. Always check references and take a look at your attorney's track record before committing to working together on your claim. You should be able to easily access information on their case background and ask for references to help make a final decision, if this information is not made readily available when asked for or is difficult to find online, you may want to look elsewhere for legal counsel.
Additionally, a good car accident attorney will typically work with new clients on a contingency basis, which means that they do not collect any type of fee from you unless they help you win your claim. This is a very common practice for attorney's who believe your case has some merit. Most attorneys understand that no one is prepared for the amount of damage that a car accident can cause, so asking for fees upfront can make it difficult for accident victims to obtain good legal counsel.
What Type of Questions Should You Ask a Car Accident Attorney?
Before you begin looking for a car accident attorney, it is in your best interest to gather as much information about the accident, your injuries, the injuries of the other involved parties and any financial losses as possible. If you have access to important documents like medical records, official police reports, insurance policies and any information exchanged at the scene, these will all be helpful to potential attorneys as they review your claim. With this helpful information in hand, you can then focus on asking a few key questions before hiring a personal injury attorney, including:
What type of experience do you have in handling cases with my specific injuries?

What percentage of your practice is focused on working with car accident cases?

How much of my case will you actually be working on?
What is the typical settlement range for injuries and cases similar to my own?
Am I responsible for any out of pocket fees?
How are your fees structured?
Do you ever work on a contingency basis?
When hiring a car accident attorney it is also a good idea to keep in mind that attorney fees are different from costs. This means that even if your attorney agrees to take on your case on a contingency basis, you could still be held responsible for certain out of pocket expenses. So be sure to clarify fees and costs with your attorney to make sure you understand what you will be legally responsible for.
Start Preparing Your Car Accident Case with Scura Today
If you or a loved one has been injured in a car accident and you're interested in learning more about the personal injury claims process, the team at Scura is here to help. With many years of combined experience and a dedication to fighting hard for each one of our clients, we are ready to speak with you about your case today. Don't waste another minute worrying about how you're going to get through this difficult process alone! Instead, visit our New Jersey car accident attorneys online today to set up a free initial consultation and begin working on your case.
Share Article
Need Help? Contact Us Today!