Scura, Wigfield, Heyer, Stevens & Cammarota Blog
5 Things to Do Immediately After Your Car Accident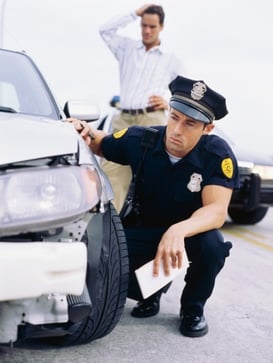 An average of close to six million car accidents occur each year in the United States. The seriousness of accidents ranges from those only involving property damage to those involving serious injury and death. You should always take minimum steps if you are involved in any type of accident. The below list is not complete, but serves as a recommendation from a car accident lawyer of some of the minimum things to do to best protect your rights after a car accident.
1. Keep Scene in Tact and Never Leave the Scene
As best you can, make sure the cars stay in the same resting position after the accident. Obviously, if you are in danger of any kind then move out of harm's way. Take such protective actions as setting up flares or keeping your flashers on. Always call the police to come to the scene and make a police report even if the other driver tries to convince you to just handle it without the police. If possible, stay in that position until the police arrive.
No matter what you do, never leave the scene of an accident regardless of how serious. If you do, you are subject to a ticket and serious penalties, including potential loss of license in New Jersey as there is a statute penalizing you for leaving the scene of an accident. Critical evidence may also be lost if you leave the scene. You always want to wait for police to come and document and report the accident. Otherwise, you will most likely have problems with your and the other vehicle's insurance company.
2. Immediately Call the Police
For many different reasons, you want the police to be involved, even where you are at fault for the accident. Call the police as soon as you can even if there are no serious injuries. Most likely, you will need a police report to file a claim with your insurance company, even if it is just to make a claim for damage to your vehicle. New Jersey has no fault medical coverage, called Personal Injury Protection coverage, under your own auto policy so you are entitled to medical coverage even if the accident is your fault. You will need a police report when setting up your Personal Injury Protection coverage with your insurance company.
When the police arrive, make sure you tell the police exactly what happened. Do not speculate, guess or misstate any of the facts. Now is not the time to be shy. Immediately advocate, without arguing or alienating the investigating officers for your version of the events. If you are asked if you are hurt and you are not sure, then say that. If you are feeling any pain then tell the office that, and you should get fully checked out by a medical professional. You should also make sure statements made by other persons involved in the accident are accurate as well and that the officers are aware of all witnesses.
3. Take Pictures or Video and Obtain Witness Information
With cell phones and digital cameras today, it is easy to get pictures, maybe even video. Take as many pictures of the scene and all vehicles involved. You want to take pictures of the damage to the vehicles involved as this will better prove your case if you are not at fault.
You also may want to take a picture of the roadway for skid marks or other areas at the scene that may show evidence of what happened. Likewise, you should take pictures of yourself or others hurt in the accident if there are visible injuries.
Our car accident lawyers have had great success when our clients have taken pictures and/or video of the scene and cars themselves after the accident. Pictures of the vehicles are many times the best evidence of how the accident occurred and the severity of the impact to your vehicle and you.
If police do not arrive at scene, then obtain the name, address and telephone number of all persons involved in the accident, both drivers and passengers.
Always obtain information about insurance by asking to see the insurance card for all vehicles involved in the accident. For witnesses, you should get their personal information. If police do arrive, they will usually obtain this information. In many cases, however, the police do not take down information on witnesses. Get those witnesses' information, especially cell phone number, if you feel they will help your version of events.
4. Report Accident to Insurance Company and Obtain Medical Treatment
Notify your insurance company immediately after the accident. In New Jersey, most policies have personal injury protection coverage for medical treatment under your own policy so you want that claim set up immediately if you are hurt. Insurance policies always have a reporting requirement so make sure you report the accident.
If you are hurt at all, seek medical treatment immediately. Many times, injuries caused by motor vehicle accidents do not show up right away. Unless you are positive you are not hurt, you should seek medical attention at your local hospital emergency room. You want to get fully checked out and any injuries fully treated.
5. Organize Records and Contact a Car Accident Lawyer
Start a file on all your accident-related documents. This information should include an insurance claim number, the claim adjuster who is handling the claim, names and phone numbers of all contacts and witnesses, pictures, receipts for a rental car and other expenses incurred as a result of the accident.
You must protect your rights. Be guarded on what you say to insurance companies, even your own. The insurance companies are not your friends. Preferably, see the attorney before you speak to insurance companies. Do not give any written statements without speaking to your car accident lawyer.
Our office will speak to you free of charge and give you initial advice even if you do not intend to pursue a claim. This advice initially will save you a lot of time and headaches. Our office works on a contingency fee basis, which means there is no legal fee unless we obtain money for your harms and losses. Contact us today.

John fights hard for his clients and tries to educate them so they understand what is going on with their particular legal problem. John has been Certified by The Supreme Court of New Jersey as a Civil Trial Attorney. Whether it is a personal injury case, bankruptcy case, litigation case or other type of matter, John wants his clients to participate in the decision making process toward solving their problem in the best way possible.
Share Article
Need Help? Contact Us Today!