Scura, Wigfield, Heyer, Stevens & Cammarota Blog
Are Property Settlement Agreements Discharged in NJ Bankruptcy?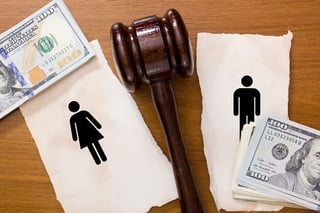 If you have gone through a divorce, are going through one or are even contemplating divorce, then you know it can often be a confusing and challenging process. Many questions can arise with respect to the equitable distribution of assets and liabilities.
As many already know, the division of assets and liabilities are set forth in a Property Settlement Agreement which is voluntarily entered into by both parties. As part of a Property Settlement Agreement, for example, an ex-spouse may have to provide a period of alimony support to the other spouse or has agreed to incur the marital credit card debt.
However, because divorce is in fact a disruptive process, many spouses can end up in debt over their heads and do not have the money to cover their support and/or debt obligations. Therefore, the question becomes: Can an ex-spouse file for Bankruptcy and discharge these debts agreed upon in the Property Settlement Agreement?
Interestingly enough, the answer depends on the nature of debt the party wants discharged and what Chapter the filing is under. First, neither Chapter 7 nor Chapter 13 bankruptcies discharge child support, alimony or any other obligation that is paid for the benefit of an ex-spouse or children. In addition to child support/alimony payments, this also includes health insurance coverage, education costs and life insurance policies whereby an ex-spouse or child is named as a beneficiary. It may even include mortgage payments a spouse agreed to make on the family home.
The bottom line: Familial support obligations cannot be eliminated or reduced by filing for bankruptcy. However, it was mentioned above that certain debt in a Property Settlement Agreement may be eliminated depending on whether it is a Chapter 7 or Chapter 13 filing. Below find a simple break down of the criteria pursuant to the 2005 Bankruptcy Abuse Prevention and Consumer Act (BAPCPA) and 11 U.S.C. § 523(a)(5):
Chapter 7 Compared to Chapter 13 Bankruptcy:
Chapter 7: Chapter 7 is the strictest form of Bankruptcy. Under the BAPCPA scheme, debts associated with a Property Settlement Agreement cannot be discharged. This includes clauses in the Agreement whereby a party agrees to indemnify or "hold harmless" an ex-spouse against any liability for marital debt the party agreed to pay. 11 U.S.C. § 523(a)(5); 11 U.S.C. § 523(a)(15)
Chapter 13: If the debt is strictly a Property Settlement Agreement, i.e., not related to any familial support, then it may be able to be discharged in Bankruptcy. Chapter 13 allows for the discharge of debts a former spouse took responsibility for paying in the Property Settlement Agreement, including any indemnity/"hold harmless" provisions as discussed above. It is important to note, however, that if a former spouse is not current on its support obligations, the Court will not discharge the Chapter 13 bankruptcy even after completion of the repayment plan. 11 U.S.C. § 523(a)(5); 11 U.S.C. § 523(a)(5)
Can Attorney's Fees Be Eliminated in Bankruptcy?
Attorney's Fees: An important question that often arises is whether obligations to pay attorney's fees can be eliminated in Bankruptcy. Pursuant to 11 U.S.C. § 523(a)(5), the Bankruptcy Court has declared that that obligations to pay for a spouses attorney's fees,that are awarded as additional support, are non-dischargeable in Bankruptcy.
Whether you are in debt seeking to discharge in Bankruptcy the obligations you undertook in a Property Settlement Agreement or are a spouse who receives support and other martial payments that is subject to a possible discharge, it is important to speak to a qualified Family Law and/or Bankruptcy practitioner in order to protect and understand your unique rights and interests.
We are a debt relief agency. We help people file for bankruptcy relief under the Bankruptcy Code.
Whether you need to completely eliminate your debt through Chapter 7 bankruptcy, or need to reorganize your credit payments through Chapter 13 or Chapter 11, we are well qualified as a full-service bankruptcy law firm for people in these and other New Jersey counties: Passaic County, Hudson County, Essex County, Bergen County, Morris County, and Sussex County. Call us today at 973-870-0434 or toll free 888-412-5091.
Share Article
Need Help? Contact Us Today!