Scura, Wigfield, Heyer, Stevens & Cammarota Blog
Avoid Common Mistakes When Filing for Bankruptcy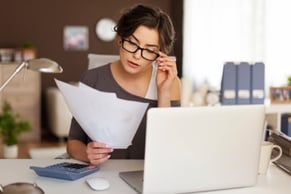 While bankruptcy can offer a fresh start, the process of filing for bankruptcy can be confusing. There are certain common mistakes people make when filing for bankruptcy, so it is important to educate yourself before filing.
Understanding the Difference between Chapter 7 and Chapter 13
Make sure you understand the difference between Chapter 7 and Chapter 13 bankruptcy. Chapter 7 bankruptcy dissolves all the debts of someone who is not able to pay them off. This gives an individual a clean slate. To be eligible for it, however, the law requires debtors to pass a means test. Check our blog post for more on the differences between Chapter 7 and Chapter 13 bankruptcy.
Bankruptcy Means Test
The means test measures monthly earned income and deducts monthly expenses from that amount to determine someone's disposable income, or money that is available after all expenses have been covered. The key to the means test is the median income for someone's state of residence. If someone makes less than the median income in their state of residence, he or she will automatically qualify for Chapter 7 bankruptcy. If someone's income is over the median, he or she could still qualify, but will need to complete the entire means test.
Failing the means test is one of the most common ways someone's bankruptcy application may be denied. However, failing a means test does not mean that no help is available. If an individual fails a means test, he or she can still apply for Chapter 13 bankruptcy.
Chapter 13 bankruptcy, also known as a wage earner's plan, consolidates debts and creates a repayment plan that is manageable for the debtor. The process involves meetings with a credit counselor and creditors to come up with a viable plan.
Importance of Proper Paperwork
Unfortunately, mistakes can be made that can lead to the rejection of a bankruptcy application. Both Chapter 7 and Chapter 13 bankruptcies require a significant amount of paperwork, including the initial petition, worksheets that list the value of your property and your monthly income, a statement of financial affairs, and other forms that outline your intent as a filer. If any of these forms are missing or incomplete, your petition can be rejected.
In addition to the plethora of forms, courts also require tax documents dating back several years. If you are unable to produce tax documents, the court cannot process your petition. Another mistake debtors make in the bankruptcy process is missing a meeting. Courts will not consider your petition if you are not present for the proceedings.
Finally, be honest on your petition. Creditors and others can come forward and challenge your eligibility by accusing you of fraud or dishonesty. Be sure to be meticulous in your records and form filing to avoid this serious mistake.
Seek Bankruptcy Counsel
Although the bankruptcy process is complicated, avoiding some common mistakes when filing for bankruptcy can make the process go more smoothly. It is wise to seek the advice of an experienced bankruptcy attorney who is an expert in the process and will be able to help you wade through the complexity - and the paperwork.
Share Article
Need Help? Contact Us Today!