Scura, Wigfield, Heyer, Stevens & Cammarota Blog
Bankruptcy Is An Option to Deal with Debt From a Vehicle Repossession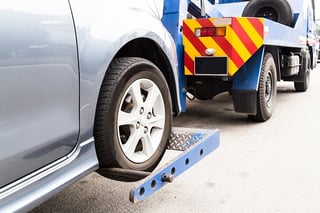 If you have recently had a vehicle repossessed, you are probably feeling overwhelmed at the prospect of a large debt hanging over your financial future. Vehicle lenders tend to be aggressive in their collection techniques, so it is likely that harassing phone calls will commence soon after the repossession. Often, the vehicle lender will commence litigation to try to recoup their losses against the borrower after the repossession. If you are in this situation, then bankruptcy may be your solution.
The Vehicle Repossession Process and Amounts Owed After the Repossession
When you lease or finance a vehicle, your vehicle lender or lessor (the "Lender") enters into a security agreement with you. The security agreement secures repayment of the loan against the vehicle purchased. In practical terms, this means that the Lender can take the vehicle back from you if you do not make your contractually owed payments towards satisfaction of the debt owed to it. After the repossession, the Lender will eventually sell your vehicle at an auction and apply the sale proceeds towards satisfaction of the debt owed to it. After the repossession auction, you will be liable for the deficiency balance. There is a deficiency balance if the repossessed vehicle is sold for less than the full amount contractually owed to the Lender. The Lender can pursue the deficiency balance by filing a law suit. If you signed the lease or finance agreement and failed to make your contractual payments, then in most instances your defenses to this action are limited.
When Is Your Ownership Interest Extinguished After a Repossession of Your Vehicle
If the car has been financed, then your rights in the car are terminated after the repossession sale. However, if the car is leased, then the lessor can terminate your rights to the car by sending you a letter terminating the lease in accordance with the Uniform Commercial Code any time after the repossession, but prior to the repossession sale. Until your rights of ownership are terminated you can retain the vehicle through a chapter 13 bankruptcy proceeding. To keep the vehicle, you would need to cure the arrears (amounts past due) on your vehicle and maintain the regular monthly mortgage payments on the vehicle over the course of your chapter 13 bankruptcy proceeding. Despite the fact that the UCC Termination Letter technically terminates your rights to the vehicle, in many instances a lessor will allow you to cure and maintain your arrears on a vehicle. But, it is important to note that this becomes dependent on the lessor's willingness to work with you.
It is important to note that the Lender does not have to return the vehicle to you after a repossession in a chapter 7 proceeding.[1] The legal reasoning behind this distinction is that a chapter 7 bankruptcy is a liquidation chapter of bankruptcy and a chapter 13 bankruptcy is a reorganization chapter of bankruptcy.
Bankruptcy Can Help You Dig Your Way Out of Debt After a Repossession
The large judgment that often results from a repossession can make you feel trapped and out of options. However, it is important to note that a judgment resulting from a car repossession can be discharged in a bankruptcy proceeding. Once you receive a bankruptcy discharge, you will no longer be liable for the debt resulting from the repossession. If the Lender continues to pursue you after you receive a bankruptcy discharge, then they will be in violation of federal law and liable to you for damages.
Accordingly, if you find yourself in this position, it is important to contact an experienced bankruptcy attorney to guide you through your options to help you decide which path is best for you. If you have questions regarding your car repossession, call the law firm of Scura, Wigfield, Heyer, Stevens & Cammarota, LLP for a free consultation.
Whether you need to completely eliminate your debt through Chapter 7 bankruptcy, or need to reorganize your credit payments through Chapter 13 or Chapter 11, we are well qualified as a full-service bankruptcy law firm for people in these and other New Jersey counties: Passaic County, Hudson County, Essex County, Bergen County, Morris County, and Sussex County. Call us today at 973-870-0434 or toll free 888-412-5091.
[1] There is a Southern District of New York case that states that the Lender would need to return the vehicle in this scenario, but it is an outlier for how courts rule on this issue.

Prior to joining Scura, Wigfield, Heyer, Stevens & Cammarota, LLP, David Sklar graduated from Rutgers University-Newark School of Law with a J.D., Cum Laude. Mr. Sklar was the recipient of a Pro Bono Award and was honored by the New Jersey Bar Association for his commitment to the Street Law Program by being awarded the Street Law Prize.
Share Article
Need Help? Contact Us Today!