Scura, Wigfield, Heyer, Stevens & Cammarota Blog
Chapter 7 or Chapter 13 Bankruptcy: Which Chapter is Right for You?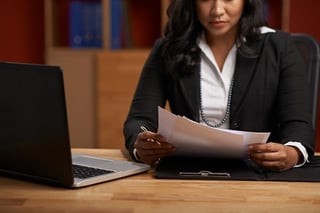 Most people assume that if you file for bankruptcy, you must liquidate virtually everything you own to pay your creditors. While this is true under some circumstances, you actually have more than one option when you file for bankruptcy.
Most individual bankruptcies are either filed under Chapter 7 or Chapter 13. A Chapter 7 bankruptcy is the more traditional liquidation plan. When most people think of bankruptcy, Chapter 7 seems to come to mind first. In a Chapter 13 bankruptcy, you develop your own repayment plan to pay your creditors over time. Creditors may not be paid in full because the payment plan is limited. The remaining debts are discharged, or forgiven, after you complete the payment plan.
Similarities Between Chapter 7 and Chapter 13 Bankruptcy
The ultimate goal of bankruptcy is to get a handle on your outstanding debts. By choosing which type of bankruptcy you want to file, you are deciding how you would like to accomplish this goal. Both Chapter 13 and Chapter 7 bankruptcy help you with this goal, but they go about it in very different ways. Despite their differences, Chapter 7 and Chapter 13 filings have many similarities as well.
· Both Chapters Allow You to Discharge Debt. You can often discharge a portion of your debt through either Chapter 7 or Chapter 13 bankruptcy. This debt is forever forgiven, and outstanding obligations are wiped out.
· Secured Creditors are Treated the Same. Secured creditors, those who have an interest in your property, such as your car or home, are treated the same in both types of bankruptcy. If you do not or cannot pay debts related to secured items, then that creditor can often repossess that property.
· Payment "Order" is the Same. Creditors "line up" in bankruptcy. That is, certain creditors are paid before others. In both Chapter 13 and Chapter 7, this priority matters and will dictate when each creditor will be given and how much.
· Procedural Obligations are Similar. Many of the procedural aspects of bankruptcy are the same in Chapter 7 bankruptcy compared to Chapter 13. For example, you will be required to attend a creditors' meeting or 341 meeting, and you must file informational schedules with the court regarding your income and debt obligations.
· Both Chapters Stop Collection Efforts. Creditors must halt all collection efforts when you file for bankruptcy, regardless of which type of bankruptcy you file. No creditor should have direct contact with you while your bankruptcy is pending.
· Certain Property is Exempt. Regardless of whether you file for Chapter 7 or Chapter 13, some of your property is exempt and protected from creditors.
The Key Differences Between Chapter 7 and Chapter 13
Chapter 13 bankruptcy will last significantly longer than Chapter 7 in most individual cases. Chapter 13 cases involve a repayment plan that will usually last between three to five years. Chapter 7, on the other hand, is much faster. It may only take a few months to go through the entire process.
You may end up paying creditors more in Chapter 13 than a Chapter 7, which often makes Chapter 7 bankruptcy more appealing for some debtors. However, you must qualify for Chapter 7, and many debtors will not qualify.
When Is Chapter 7 Bankruptcy My Best Choice?
Chapter 7 bankruptcy is designed for debtors who do not have much in the way of property or assets. They may rent their residence, live with someone else, or have very little equity in their home. They also may not own a car, or their car is not worth much. Chapter 7 debtors often have more debt than what they could possibly pay, even if they worked on their debt for years into the future.
They may struggle to pay basic living expenses or have very little money left over to pay their debts after paying their basic monthly obligations. Creditors may be calling frequently for these debtors. They may have also tried a repayment plan with one or more creditors, and it just did not work.
Chapter 7 debtors may or may not be able to work as well. Many Chapter 7 debtors have fallen on hard times due to the loss of a job, a loved one, or because they have had to deal with a serious health condition. For these debtors, Chapter 7 bankruptcy offers a welcome break from harassing creditors and living paycheck to paycheck.
In Chapter 7, you gather all of your non-exempt assets and the trustee will sell them on your behalf. Then, that money is used to pay your creditors a portion of what you owe them. The remaining debts are wiped out or "discharged." You then emerge from the bankruptcy process with a much-needed "fresh start" in just a few months.
When Is Chapter 13 Bankruptcy the Right Option?
A Chapter 13 bankruptcy essentially forces your creditors to accept a payment plan that will work for you. All of your debts are combined into one lump sum payment that fits your budget. The lump sum must meet certain minimum qualifications, and you must make this payment for a specific number of years, but no longer than five years. Then, anything that is not paid off by the time your payment plan is finished is discharged.
Chapter 13 bankruptcy is a good option for those who have regular income but still struggle to pay their outstanding debts. Chapter 13 debtors often have significant equity in large-ticket items, such as a home or vehicle. Chapter 13 bankruptcy allows you to keep your property while also curbing your creditors.
Qualifying for Chapter 7 Bankruptcy
Only certain debtors will meet the qualifications for Chapter 7 bankruptcy. To file Chapter 7, you must meet the "means test." This test will determine whether you should be creating a repayment plan in Chapter 13 because you can pay some of your debts. This process will consider your income, regular monthly expenses, how many people you have living in your home, and the overall amount of your debt.
The means test was developed in response to concerns that debtors would use Chapter 7 bankruptcy as a way to discharge debts even though they could pay more to their creditors based on their income. Nonetheless, most individual bankruptcy filings are still Chapter 7 cases.
Deciding Which Chapter is Right for You
Both Chapter 7 and Chapter 13 bankruptcy have their advantages and disadvantages. The right chapter for you will vary depending on your unique financial situation. Our team can help you decide whether Chapter 7 bankruptcy or Chapter 13 will work best for you. Call today to schedule an appointment with one of our New Jersey bankruptcy attorneys.
Whether you need to completely eliminate your debt through Chapter 7 bankruptcy, or need to reorganize your credit payments through Chapter 13 or Chapter 11, we are well qualified as a full-service bankruptcy law firm for people in these and other New Jersey counties: Passaic County, Hudson County, Essex County, Bergen County, Morris County, and Sussex County. Call us today at 973-870-0434 or toll free 888-412-5091.
Share Article
Need Help? Contact Us Today!