Scura, Wigfield, Heyer, Stevens & Cammarota Blog
Fight Back – Make the Creditor Pay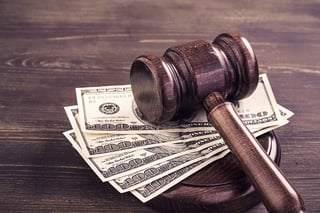 A primary relief of filing for bankruptcy protection is to obtain the benefit of the Automatic Stay. The Automatic Stay keeps creditors at bay while the bankruptcy case is administered. It prevents a variety of actions from commencing or continuing, including any judicial proceeding that could have been commenced before the petition was filed. This breathing space is critical in enabling a debtor to reorganize or a chapter 7 trustee to administrate the liquidation of the bankruptcy estate.
It is not unusual that a creditor continues its efforts to collect despite knowledge of the bankruptcy filing. Sometimes the creditor may believe that the stay is not applicable, or it may claim ignorance that the stay prevents a certain act from occurring. Fortunately for the debtor that is harmed by the Automatic Stay violation, bankruptcy courts are quick to enforce the Automatic Stay and are not bashful about penalizing an offending creditor. An aggrieved debtor may seek redress with the Bankruptcy Court and request the Bankruptcy Court to impose sanctions for violations of Section 362 of the Bankruptcy Code, and, in appropriate circumstances, invoke civil contempt for the purposes of putting an end to a continuing violation.
Even Unintentional Violations are Penalized
It is not necessary for an offending creditor to have deliberately violated the Automatic Stay in order for it to be penalized. Mere knowledge that a bankruptcy case was filed is sufficient to warrant compensatory damages and recovery of attorney fees.
As an example, prior to the commencement of the debtor's bankruptcy case, a creditor lawfully obtained a judgment against the debtor and an order garnishing debtor's wages and levying his bank account in an attempt to collect his past due obligations on the monetary award entered in the creditors favor. Less than two weeks after the garnishment was issued the debtor filed for bankruptcy relief. The judgment creditor sat passively still after being noticed of the bankruptcy filing and did not take any steps to halt the garnishment after being noticed of the bankruptcy filing. Not until the judgment creditor received a letter form debtor's attorney did the garnishment cease.
Section 362(a)(2) of the Bankruptcy Code provides that the stay applies to the enforcement of a judgment, against either the debtor or against property of the estate, obtained prior to commencement of the bankruptcy case. This would include for example, garnishment, levy or execution, post-judgment attachment, and the pursuit of proceedings supplemental to the entry of judgment. Section 362(a)(2) covers both actions on judgments against the debtor and, in addition, actions that seek to obtain property of the estate based on a prepetition judgment
In the example above, the judgment creditor did not take any action to enforce its judgment after the filing of the bankruptcy case. However, bankruptcy courts routinely hold that a garnishing creditor has an affirmative duty, upon receiving notice of debtor's bankruptcy filing, to take all necessary action to release its garnishments in order to implement the Automatic Stay. See, e.g., In re Bailey, 428 B.R. 694, 698–99 (Bankr.N.D.W.Va.2010); see also In re Elder, 12 B.R. 491, 494–95 (Bankr.M.D.Ga.1981) and In the Matter of Sams, 106 B.R. 485 (Bankr. S.D. Ohio 1989).
What is the Penalty for Violating the Automatic Stay?
In relevant part, § 362(k)(1) provides that "an individual injured by any willful violation of a stay provided for by this section shall recover actual damages, including costs and attorney's fees, and, in appropriate circumstances, may recover punitive damages." 11 U.S.C. § 362(k)(1). A frequently asserted, but ill-informed, defense raised by an offending creditor results with the misunderstanding of the term "willful". A willful violation does not require a specific intent to violate the stay. See In re Atlantic Bus. and Community Corp., 901 F.2d 325, 328 (3d Cir. 1990) ("willful violation" requires that a defendant knew of the stay and that actions which violated stay were intentional); See also In re Lansdale Family Restaurants, 977 F.2d 826, 829 (3d. Cir. 1992) (a violation is "willful" if a creditor knows of the stay and takes an intentional action violating it). Damages may be awarded under § 362(k) when a creditor, with bare knowledge that a bankruptcy petition has been filed commits a volitional act that violates the stay. Krystal Cadillac-Oldsmobile GMC Truck, Inc. v. General Motors Corp, 337 F.3d 314 (3rd Cir. 2003).
Typically, most cases brought to the court's attention concerns bare violations of the stay: a creditor has knowledge of the bankruptcy case but unintentionally violates the stay. In these situations the conduct justifies compensatory damages or injunctive relief, but not punitive damages. See In re Wagner, 74 B.R. 898, 903–904 (Bankr.E.D.Pa.1987). Particularly egregious proscribed acts, where the offending creditor acts with actual knowledge that it is violating the stay, or with reckless disregard for the stay, warrants punitive damages. Id. at 903–904 (Quoting in part Cochetti v. Desmond, 572 F.2d 102, 106 (3rd Cir.1978)).
Whether the facts of a case represent an appropriate circumstance for the imposition of punitive damages and the amount of those damages under section 362(k), turns on the following factors that have been culled from the case of In re B. Cohen & Sons Caterers, Inc.:
(1) the nature of the offending party's conduct;
(2) the nature and extent of the harm to the plaintiff;
(3) the nature and extent of the harm the offending party intended to cause;
(4) any provocation by the debtor; and
(5) the offending party's ability to pay damages.
108 B.R. 482, 487 (Bankr.E.D.Pa.1989).
There is More Than One Way to Reach the Same End
There is an alternative to sanctioning a creditor under section 362(k)(1). A bankruptcy court may issue a contempt order in the exercise of its statutory authority under 11 U.S.C. § 105(a) to enter "necessary or appropriate" orders. See In re Del-Met Corp., 322 B.R. 781 (Bankr. M.D. Tenn. 2005); see also 130 Cong. Rec. H1942 (daily ed. March 26, 1984) (remarks of Rep. Rodino) (section 362(h) "is an additional right of individual debtors, and is not intended to foreclose recovery under already existing remedies").
Unlike § 362(k), § 105(a) does not expressly authorize any specific kind of damages. It states:
The court may issue any order, process, or judgment that is necessary or appropriate to carry out the provisions of this title. No provision of this title providing for the raising of an issue by a party in interest shall be construed to preclude the court from, sua sponte, taking any action or making any determination necessary or appropriate to enforce or implement court orders or rules, or to prevent an abuse of process.
11 U.S.C. § 105(a).
If contempt is present, the court may sanction the offending creditor by awarding damages and attorneys' fees to the debtor for the cost of bringing the action. See In re Clark, Williams et al. v. Clark, 91 B.R. 324, 326 (Bankr. E.D. Pa. 1988); see also TWM Mfg. Co. v. Dura Corp., 722 F.2d 1261, 1273 (6th Cir. 1983) ("The award of attorney's fees and expenses to a successful movant may be appropriate in a civil contempt proceeding.")); Duling v. First Fed. Bank of the Midwest (In re Duling), 360 B.R. 643, 645 (Bankr. N.D. Ohio 2006)("The sanctions imposed by a court may include an award of damages to the debtor, including reasonable attorney fees.")).
To prevail in a civil contempt proceeding, a debtor must prove that the creditor violated a definite and specific order of the court of which the violating party had knowledge of the court's order. In re Demp, 23 B.R. 239, 240 (Bankr.E.D.Pa.1982). Upon a finding of civil contempt, a court may impose a fine in order to coerce compliance with its orders in addition to awarding damages to compensate the aggrieved party for any actual loss suffered, as well as attorney's fees and costs. In re Wagner, 74 B.R. 898, 902 (Bankr. E.D. Pa. 1987).
In conclusion, the purpose of the Automatic Stay is to prevent the chaotic and uncontrolled scramble for a debtor's assets in a variety of uncoordinated proceedings in different courts. It serves to protect a debtor from its prepetition creditors by stopping all collection efforts, all harassment, and all foreclosure actions while he attempts to gain a fresh start. The protections afforded by the Bankruptcy Code will be vigorously defended by the bankruptcy courts.
Consult with a Bankruptcy Attorney Early On
The Automatic Stay also serves to treat all creditors in a manner consistent with bankruptcy's goal of equal treatment and ensuring that the estate will be preserved against attempts by other creditors to gain unfair advantage Therefore, whether you are a creditor wondering what to do once the debtor has filed for bankruptcy protection, or you are a debtor continuing to be prosecuted for a pre-petition debt, consulting with an experienced bankruptcy attorney early on is central to defending or prosecuting your rights and remedies.

I have a passion for what I do. There are few things I enjoy more than helping good people and viable businesses find solutions to overwhelming debt.
Share Article
Need Help? Contact Us Today!