Scura, Wigfield, Heyer, Stevens & Cammarota Blog
New Jersey Employment Discrimination Laws
Discrimination is defined in Wik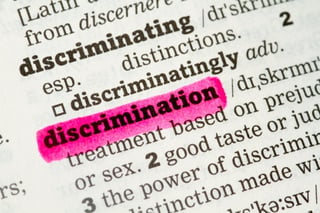 ipedia as "treatment or consideration of, or making a distinction in favor of or against, a person or thing based on the group, class, or category to which that person or thing is perceived to belong to rather than on individual merit."
If You Are Facing New Jersey Employment Discrimination
If you are facing discrimination in your New Jersey employment setting, it might be time to talk with an attorney. You may have a legitimate and compelling case against an employer if you were blatantly discriminated against on the basis of any of the following:
Age (if you are older than 40)
Disability or perceived disability, when reasonable accommodations would allow you to fulfill requirements of the job
Race, color, national origin, religion, gender or sexual orientation
Pregnancy or marital status
Veteran status
Through application of the New Jersey Law Against Discrimination (LAD), your employment discrimination case can go straight to court if warranted by the facts. You are protected from discrimination in the ways listed above — and from retaliation when you report the discrimination.
Contact a New Jersey Employment Discrimination Lawyer
For this reason, we recommend that you discuss any potential employment discrimination claim with an experienced employment discrimination attorney before making a complaint or report at work. An attorney who is well versed in corporate litigation can advise you on how to document what transpires, so that in case of illegal backlash when you make your claim of discrimination, you will be legally protected.
At Scura, Wigfield, Heyer & Stevens we have represented clients who have experienced discrimination cases including employment discrimination claims involving whistle blowers who notified an authority about illegal discriminatory practices in the workplace.
If you are ready to talk about the challenge you are facing at work, our attorneys and staff are ready to help you. We work hard to provide excellent service to our clients. Contact one of our lawyers today to request an initial consultation. We have New Jersey offices in Wayne, Newark, Hackensack and Hoboken for your convenience.
Share Article
Need Help? Contact Us Today!